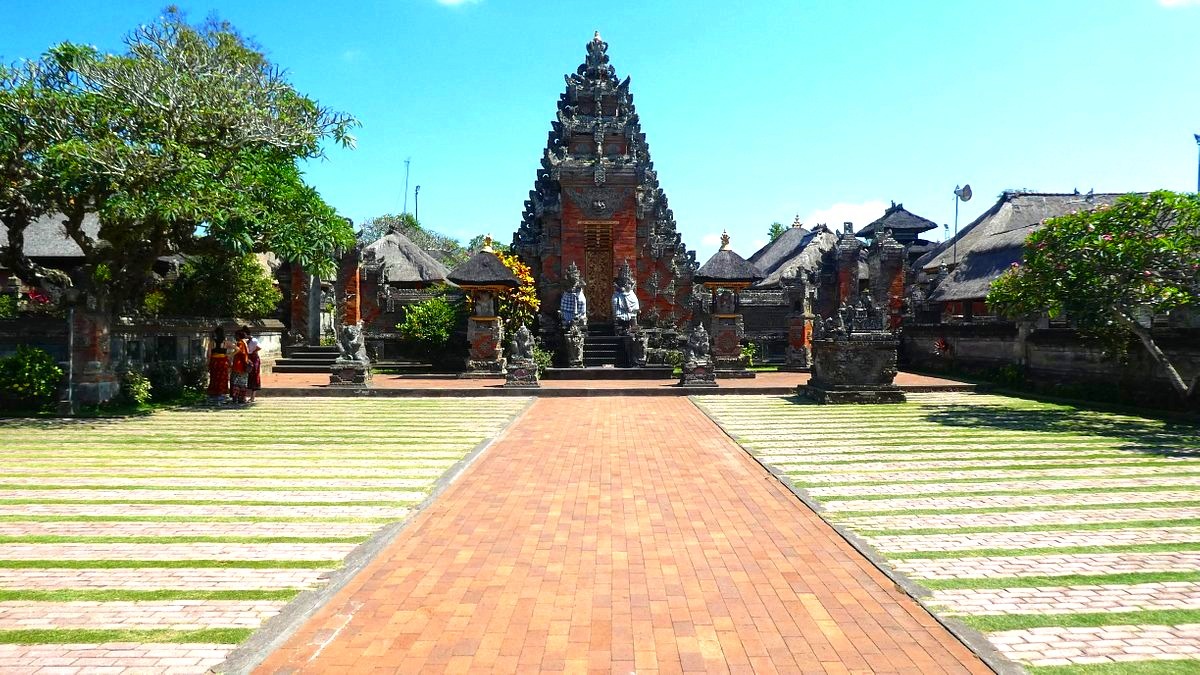 Batuan Temple or also known as Puseh Batuan Temple is a local Balinese Hindu temple looked after by the local resident of Batuan countryside. The temple is designed very beautiful with full of Balinese ornaments and the roof temple building is made from the fiber of chromatic black palm tree. It is strategically located beside of the main road from Denpasar to Ubud. For over a thousand years, Batuan has been a village of artists and craftsmen, old legends and mysterious tales. Batuan Temple has always been a tourist destination that is often visited because its location is very strategic where on the road to Ubud, many tourists stop at this Batuan temple to see the beauty and beauty of this Batuan temple, with complete facilities making this Batuan temple one of the best. temples that are often visited and are also often included in the tour program when visiting Ubud Village.
All you need to know about Batuan Temple
Batuan Temple History
Batuan Temple were founded in the year 944 isaka (1020 AD). Nearly 1000 years old. The Batuan Temple is a Puseh Temple category based on the concept of "Tri Kahyangan or Tri Murti" the concept of Pakraman Village, including the Tri Kahyangan Temple, was initiated and initiated by Mpu Kuturan who came to the island of Bali in 1001 AD. His goal is to unite the sects and community groups in Bali to worship God in his manifestation as Lord Brahma, Vishnu, and Shiva (Tri Murti Tatwa). Like this Batuan temple which is also a temple that is part of Tri Hita Kahyangan where this Batuan temple refers to the Puseh Temple which is in the batuan village, and is guarded, preserved by the local community in this batuan village.
As for the concept of Tri Kahyangan or Tri Murti including 3 temples

Desa or Village Temple as a place to worship of God Brahma (the Creator)
Puseh Temple to worship of God Vishnu (the Preserver)
Dalem Temple to worship of Lord Shiva (the Destroyer)
If we look at the arrival of MPU Kuturan in Bali in 1001, of course it takes a process to spark religious concepts such as understanding Tri Murti and Pura Kahyangan Tiga. Parum-paruman (meetings) were also held which brought together leaders of groups, groups, and sects so that in the end the sects of Balinese society were united and united. The meeting place is now known as Samuan Tiga Temple. The location is in Blahbatuh, close to the tourism center of Ubud, Gianyar
Meaning Name of Batuan
The name "Batuan" or "Baturan" mentioned here prompts villagers to joke about being "tough as stone" or "eating rocks" as batu means "stone" in Balinese. But it likely refers to an ancient megalithic tradition in which standing stones served as meeting places and ceremonial sites for the worship of ancestral spirits. Because Batuan became a center from which Buddhist priests and brahmans spread to the main court centers of south Bali, the village has an unusual preponderance of brahman. Local people are very concern about the care and preservation of the temple architecture and its environment. Not all existing buildings were old buildings here, there are some that have undergone renovation, renewal, and change from 10th century to 13th century and also 18th century AD. The structure and foundation of this temple are very tough and strong. It has the original Balinese ornament that beautifully craved on every building at this temple area. Some ornaments are reflection of The Ramayana Epic story and every holy building has different function philosophically.
The Uniqueness of Batuan Village
The Batuan temple is located in the batuan village, where in addition to the very beautiful batuan temple, the batuan village also has other very interesting tourist destinations. Where in the Batuan Village you can see many traditional painting painters here. Most local residents of this batuan village work as painting artists, you can see along the road leading to this batuan temple there are many art galleries that sell various kinds of paintings from traditional, modern, abstract and others, you can also visit one of the places here and see the process of making from very famous paintings to foreign countries. It can also be said that the batuan village is the center of the art of painting, different from the village of Celuk Village which is the center of silver and gold handicrafts, although the locations of these two villages are not so far away, they have their own characteristics that make tourists often visit them.
Geography of Batuan Temple
Batuan Temple has always been a tourist destination that is never deserted by tourists, with the uniqueness of its history and the beauty of the temple with an architectural design that is thick with Balinese carvings will make the scenery in this batuan temple even more beautiful.. If you visit the puseh batu temple, it would be nice if you know some about Batuan temples, especially in the Batuan temple area where in this Batuan temple there are three pages that you can visit.
At temple parking area, there is standing an ancient building called Wantilan, this place use as a meeting hall and to practice any kind of Balinese dances as Gambuh Dance, Pendet Dance, etc. Before you enter the temple there is some local people at Wantilan will lend you 'kamben' (a traditional Balinese costume). It is a must for you to wear 'Balinese kamben' to show your respect and honor about the holiness of "Puseh Temple of Batuan Village". It's all free, you won't be charged for entrance. However, the local people expect every tourist who visited to this temple can donate in any amount of money to support the maintenance of the temple. There is provided a simple donation box. Every donation that you give should be based on a sense of sincerity, where Balinese people know it is called "medana punia"
In the middle yard of temple there is a long building / bale called the Bale Agung and Bale Kulkul a gong mad by wood or bamboo). In this yard there is also a high entrance Balinese Gate called the Kori Agung, which is flanked by the many guardian statues shaped the giant sculpture. The function of Kori Agung is the door where the exit and entry for the gods symbolized by a small statue called Pratima. Next to the Kori Agung there are two small doors as a place of exit and entry of people into the temple's main yard.
In the main yard is the most sacred place, where the core temple of the batuan temple is here, if you visit this page, please maintain good manners and don't do anything unwanted, because this area is very sacred by the locals. The temple there are some three story Meru and Bale Pengiyasan as a symbol of the Besakih Temple, there is also a building called Padmasana as a place of worship to Sang Hyang Widhi, the only one Bali Hindu's God.
Pre Historic Relics at Batuan Temple
Batuan Temple is not only emitting a high spiritual vibration, but also representing the historical values. You can look inside there are many stunning ancient relics from prehistoric times. How the influence of Hindu culture in Bali made of natural stones in this temple become a place of worship, both to their ancestors and worshiped Hindu Deities. You will amaze in finding some ancient and unique statues there. Based on a number of statues found in this Puseh Temple, it can be grouped into several types. They are Dwarapala Statue, Embodiment Statue, Animal Statues, The Status Figure of Holding the Chicken, Phallus, Demons (Time), and many more. From these relics, it can be explained that this batuan temple has existed since time immemorial, and is one of the oldest temples on the island of Bali.
Batuan Temple Location
As for the location of this rock temple, it is very easy to find, because it is located on the main road leading to the village of Ubud. Where this batuan temple is located in Gianyar Regency, Ubud District, Batu Village. If you are traveling from Kuta it will probably take a bit longer to get here, it is estimated that it will take you around 60 - 90 minutes to arrive here, if from Ubud it only takes about 30 minutes to reach the location of this batuan temple. If you are confused about the location, you can use google map as a guide so you don't get lost. If you don't want to bother, you can contact us Bali Tour, and we will prepare transportation for you to visit this batuan temple and also visit other tourist destinations that are no less interesting. With a very cheap price and without leaving a satisfactory service accompanied by an experienced driver, it will make the trip even more enjoyable
Batuan Temple Dress Code
As for the dress code at the Batuan Temple, it is polite clothing and at Wantilan near the parking lot there are officers who will rent out sarongs and scarves for you to enter the temple, you can rent them so you can enter the batuan temple. And as you know that the temple is a sacred place for Hinduism and to enter the temple you have to wear traditional Balinese clothes such as sarong and shawl. To enter the batuan temple as well as that you will need a sarong and scarf to enter the temple as a respect for the holy place, you don't worry because here are provided a sarong and a scarf that you can use to go inside. If you are inside you can take pictures with the background of this very enchanting rock temple, while the batuan temple is a temple that is purified by local residents, so it is expected that when you enter the temple area, please maintain good manners. Welcome to this batuan temple and enjoy seeing the beauty of this beautiful oldest temple