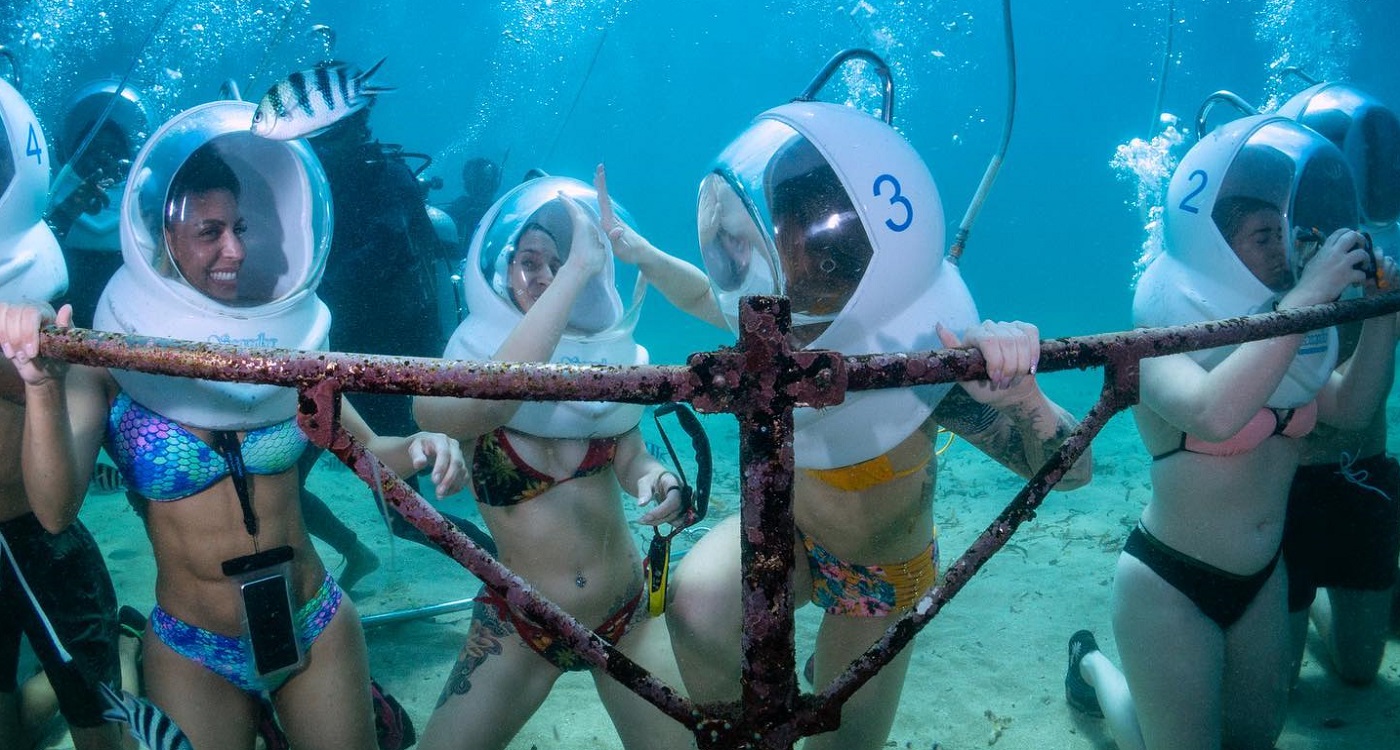 Bali Seawalker Tour is a Bali Activities Tour Packages by allows everyone to enjoy marine life, with minimum equipment and minimum fuss! Seawalker is a soft dive system, which means you only use our unique Seawalker helmet design without the need for a dive tank. Explore the stunning underwater life of Bali where you can walk at the bottom of the sea and come face to face with sea life whilst breathing the same as you do on the surface. When it comes to walking underwater, maybe some people won't believe this, but here we let you do the impossible which is to walk underwater on Sanur Beach by wearing an airtight helmet that has an oxygen hose running from above and you can breathe freely in this helmet.
Walk on The Bottom of Bali Ocean
With Bali Seawalker, you can walk on the bottom of the Bali ocean experiencing the beauty of Bali underwater world on our package with the best price. Take the location at Sanur Beach, you can walk right on the bottom of the ocean and witness the sea life of all kinds. As a safe and exciting underwater adventure Seawalker is a unique diving system providing an opportunity to observe the underwater world up to a depth of 15 feet without certification, and without getting your hair wet. Here we make your dream to walk underwater for 30 minutes with a waterproof helmet specially designed to be able to distribute oxygen from the helmet to the surface using an air hose. You don't need swimming experience here, because here everything is very simple, where you wear a helmet and go down and walk underwater with beautiful coral views and thousands of colorful small fish coming to you
Bali Seawalker Experience
An experience that you will probably not forget for the rest of your life, where you see underwater life without swimming, but walking underwater and along the tracks of this seawalker. It may sound impossible, but this is the reality, we make everyone's dream to see underwater life by walking under the sea. You do not even need any previous training or experience or even for you with the first experience in the ocean. You will be accompanied with well trained Seawalker instructors at all times under water. Participants actually walk on the bottom, rather than swim while numerous exotic fish and sea life surround them. Guest will have about 30 minutes of actual underwater time to a maximum depth of 15 feet. A large, full face window in the Bali Seawalker helmet offers a close-up view of the amazing creatures from below. Make this seawalker activity your experience in spending time during your vacation on the island of Bali, and we guarantee that this seawalker tour will certainly make history in your life journey and will always be remembered.
Seawalker at Sanur Beach
When talking about seawalkers, of course these activities are carried out at sea, and here this seawalker activity is carried out on the Sanur beach, where Sanur Beach is famous for the biodiversity that is still very natural here. With rich colorful coral reefs with lots of small fish or ornamental fish, such as Nemo fish you can also see here, with very clear water and you can see very clearly what is under the sea, making Sanur beach a very beautiful place. perfect for seawalker activities, with the conditions that are not so crowded in the sea make the fish to gather and swim freely. Here you can help by planting small coral reefs in this seawalker area so that a variety of natural life can thrive here. Sanur in addition to the beauty of its beaches with white sand, the ocean is also famous for its underwater life which is still very naturally preserved with many small fish of various types living here, here we offer the Bali Seawalker program so that you can see the beauty of underwater life on the Sanur beach.
Bali Seawalker Program
First we will pick you up at the hotel and go straight to sanur beach where the seawalker is, when you arrive at the seawalker you will be warmly greeted by the guide, and give instructions on the seawalker procedure, and you will change clothes, can use swim suits or special seawalker clothes, and proceed to the poonton by boat, arriving at the poonton you will be received by the guides who are ready here, and put a helmet on your head and make sure it is watertight before going down, and after that you go down to the sea while being guided by a seawalker guide experienced, below you will have an adventure walking on the seawalker track, here there is an iron as a handle to walk along the rocks, you can see very beautiful colorful rocks here, with the water so clear it will look more beautiful this rock, and also a small fish that swims to and fro to you is a beautiful moment that cannot be forget it, as for the duration of this seawalker is 30 minutes, with that much time you can be satisfied walking around here and enjoying the marine life. Return to the pond and take off the helmet and rest for a while, after that take the boat to return to the beach and head to the seawalker place, arrive at the seawalker place you can take a bath with fresh water to remove the remnants of seawater attached, after that we will take you back to the hotel by bringing an unforgettable experience in this Seawalker program