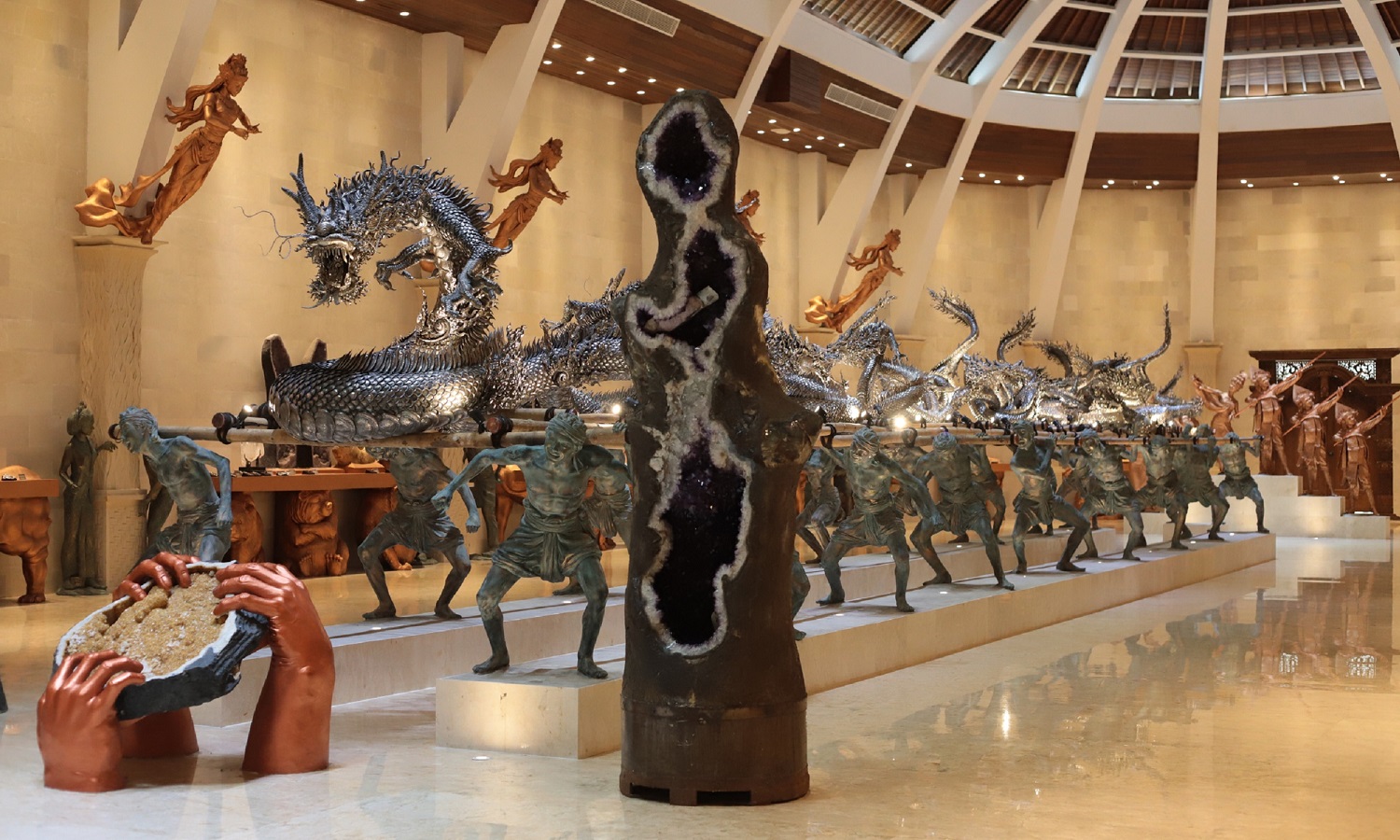 Bali Celuk Village is a traditional village located near to Ubud in the Gianyar Regency where you can appreciate the mountain culture which in many ways is similar to that of the traditional areas of Ubud and the other surrounding villages except for one major factor, Celuk Village is famous for the incredible gold and silver handicrafts which are available around this area for very low prices. The village is always crowded by tourists who want to see the uniqueness of silver made here with a design that is thick with the characteristics of Balinese carvings, and there are also modern carvings that will make women amazed by this jewelry. Celuk village has more female visitors, because women really like jewelry, here they can see a large collection of jewelry that will beautify themselves. But there are also male visitors who like jewelry to wear or for gifts, with a variety of silver collection designs that will make you feel at home for a long time in this place.
All you need to know about Celuk Village :
Celuk Village is the center of Silver art
The Celuk village is the center of silver crafts in Bali, because here local educators work as jewelry craftsmen. The prices set here are not so expensive, so many tourists come here to just see or buy very beautiful silver jewelry. Most of the silver handicrafts here are bought by entrepreneurs from abroad and for sale again in their country. If you want to do silver business you can come to Celuk village, here there are lots of shops selling silver jewelry, you can negotiate the price with the owner to resell in your country. In the celuk village area you will find that the craftsmen are of a very high standard and you can barter over these goods or even buy in wholesale capacity. As well as the shopping opportunities there is a lot to see around Celuk Village and the culture of the area is fascinating as well as relaxing to see where the pace of life is slow and you will find some interesting characters as well as plenty of place to try the local dishes and international dinning. There are some other attractions as well as in the area as well as a number of facilities and hotels which are usually top end or midrange boutique little places hidden away in the village.
Location Celuk Village
The location of Celuk Village is not difficult to find, because it is located on the main road leading to Ubud Village, so the location is very strategic. When you just enter Celuk Village, you will see many silver shops along the Celuk Village road. From the left and right of the road there are lots of silver shops with their own characteristics, from the cheapest to the most expensive prices are here. Approximately, the distance separating Celuk Vilage and Denpasar is 8 km. It's located right after Batubulan Village which you're bound to pass on the way to Ubud. The famous Sukowati Traditional Market is also near this village, so it's always a good idea to stop at Celuk after a whole day shopping in the market. Simply ask local vendors in the market about the direction to Celuk Village; they will be more than happy to guide you there. The neighborhood stands out from the surrounding, thanks to gold and silver works gallery trimming both sides of the road. If you are confused about finding the location of this Celuk village, we from Bali Tour are ready to take you here with very cheap transportation prices and also very satisfying service will make the trip to Celuk village more comfortable.
History of Celuk Village
If you visit Celuk Village, it would be nice to know about the history of Celuk Village and make you no longer curious about this Celuk Village. In the past, the dwellers of Celuk Village were mostly farmers. Rumors have it that there were only three families who belonged to the caste of Pande that pioneered this industry. This caste is well-known for their specialty in manipulating all kinds of metals to create accessories for Hindu's prayers. As tourism was becoming main commodity in Bali, more and more villagers left their farm behind and began to learn to craft silver and gold. Specifically, in 1976, almost all of the villagers had become silver smiths and Celuk Village has been popular with its beautiful jewelry and other silver handicrafts since then. The silver craftsmen here have been passed down from generation to generation, so it really fits very well if they are called by the name of Bali's Silver Village. Even though as a silver craftsman village, there is no silver mine in this Celuk village, most of the raw materials are imported from outside the island in Indonesia. Silver craftsmen in Celuk village have really good skills, where the silver carvings they make are really stunning and will make your eyes really amazed because it's so beautiful
High Quality Silver Art
The gold and silver handicrafts produced in Celuk village are of high quality and are capable of producing in large quantities. Almost all families, in every Celuk villager are skilled and artistic, in developing their creations they always look at market developments as well as existing trends. Where in Celuk village the design of the craft always follows the times, to adjust the situation without forgetting the characteristics of each silver craft. This silver craft from ancient times has been loved by tourists with unique Balinese characteristics making silver crafts in the famous Celuk village to the world. The results of gold and silver crafts can be seen in various galleries and art shops displaying various kinds of silver and gold souvenirs. There are rings, bracelets, earrings, necklaces, pendants to brooches in various unique shapes. Those who visit can not only buy, but can also be directly involved in making these beautiful jewelry. For those who are curious to admire the beauty of jewelry crafts, it's worth a visit to this village.
What to Do in Celuk Village
As you enter the neighborhood, you're going to feel as if you were in a jewelry exhibition. On ether side of the road are established many art shops showcasing their finest works inside a glass display case. You can take a closer look at them to appreciate it and buy some if you really like it. Most vendors and smiths usually accept custom made jewelries but you can always ask them to make sure. Most of them are used to dealing with foreign tourists so their English should be fair enough to promote a conversation. If you're confident enough, you may ask their permission to forge and shape your own jewelries. Some of them might allow you, even guide you how to use the tools properly. Be careful, though, because molding silvers and golds involves fire and fire can burn your fingers pretty badly, not to say your money as well. See around the village by visiting one of the art shop here and see their process making traditional gold and silver art, and see their collection of silver jewelry and you can buy if you really interest with the jewelry.