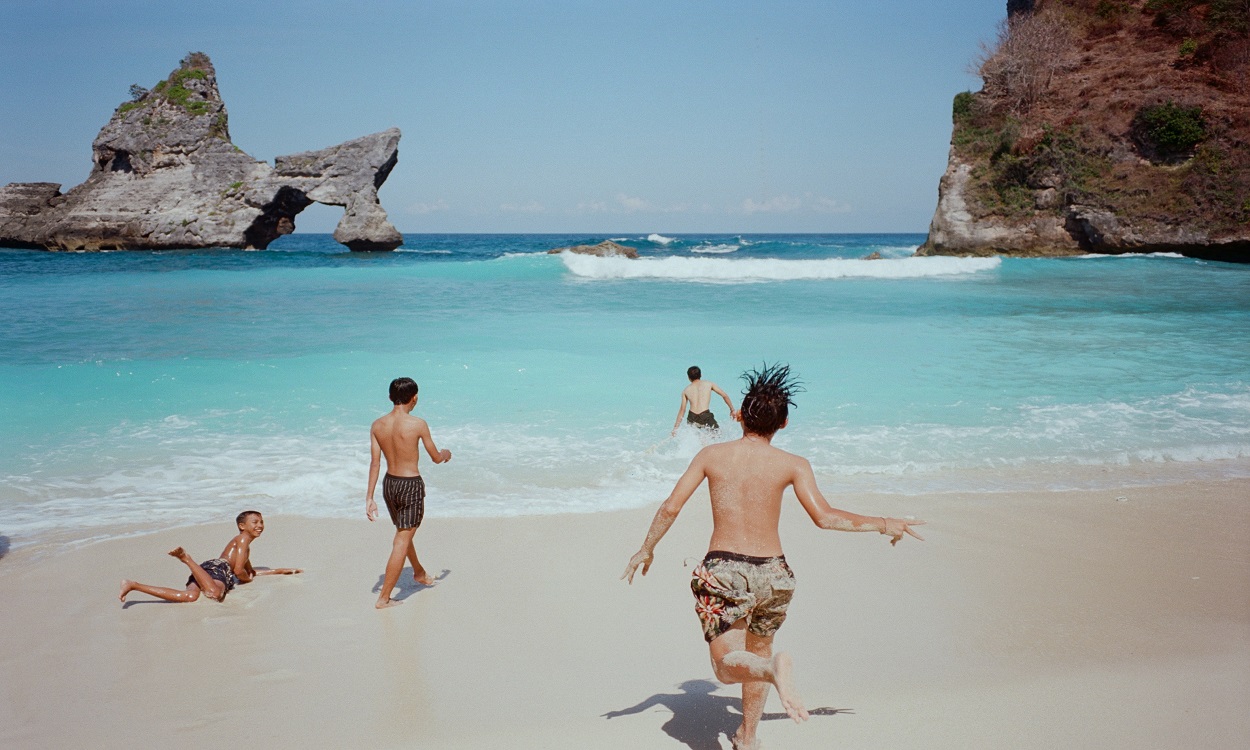 Atuh Beach is located in the Banjar Pelilit, Pejukutan Village, Nusa Penida Islands, this beach is very often visited for those who travel to the eastern part of Nusa Penida, this beach offers beautiful views where around the coast is surrounded by high cliffs, and to get to this place you must down the stairs for about 20 minutes, not suitable for those who have asthma and for pregnant people. This object is very popular among domestic and foreign tourists, because the scenery offered is very beautiful, this Atuh beach is suitable for those of you who want to swim or sunbathe on the beach
If you visit Atuh beach, here's what you need to know
Atuh Beach Tourist Destination in Nusa Penida
Atuh Beach began to be known as a tourist destination since 2010, especially since the Nusa Penida Festival was held. These beach visits usually increase by as much as 40 percent during holiday periods. At that time, tourists will spend time enjoying the exotic views of this beach.For those who like outbound, Pantai Atuh can be one of the preferred destinations. Since the festival many have seen the beauty of this Atuh beach, and over time this place has become very popular and has become one of the most frequently visited tourism sites in the eastern area of ​​Nusa Penida. It is worthy of being a very favorite tourism site because the scenery offered is so beautiful with white sand and cool breezes making this place very suitable for sunbathing on the beach. And now there are many places to sunbathe on the beach.
History Name Atuh Beach
Not far from the beach, there is a temple called Pura Atuh. This temple is often visited by Hindus communities around Pejukutan and Tanglad villages, especially during the ceremony. In the western part of the temple there are two springs that are still used today by the community. One of these springs is considered sacred, because it is only used for the benefit of custom ceremonies. While the other springs are used by the people around for a variety of living purposes. According to Pelilit Hamlet, I Wayan Satu Nusantara, there is an interesting story behind the occurrence of two springs. It was said that in the dry season, a resident saw a kneeler drinking water under a coconut tree. Later, the night the villagers received a pawisik (wahyu) to set up a springs in the cottage's drinking place. Once traced, it turns out that under the tree there is a spring source. Although the existence of these two fountains is adjacent to the beach, but in fact the water is tasteless. Another uniqueness, the source of the springs has never experienced drought despite the dry season. So, the residents around named the beach with the name of Pantai Atuh. Where the meaning of the word Atuh is derived from the word "A" meaning 'no' and 'Tuh' which means 'dry', so it can be assumed that the word "Atuh" means 'never dry'.
The Uniqueness Atuh Beach
Atuh Beach is located under a cliff and on the right and left there are rock cliffs, making Atuh beach like a very hidden beach. Being flanked by two cliffs will add to the uniqueness of this Atuh beach. Because it is located under a cliff, and access to the beach is very tiring, now the facilities are so good, where to go to the beach there are stairs to go down, it takes a very extra struggle to get to the bottom, for those of you who are not strong enough walking to go down, we suggest not to go down, just enjoy the view of Atuh beach from the view point above. To reach Atuh beach, visitors must walk with coral and limestone tracks for approximately 2 km. During tracking, visitors will be presented with views of the hills to the east and views of the high seas to the west. The charm offered by Atuh Beach is a beach scene that is flanked by cliffs. The clear water allows us to be able to enjoy the beauty of underwater biota, such as coral reefs. At low tide, you will see a collection of corals sticking out on white sand
Tour Packages to Atuh Beach
Atuh beach is located in the eastern area of ​​​​nusa penida, if you visit the eastern area of ​​​​nusa penida, you can stop by atuh beach to see the uniqueness of this beach and enjoy the cool beach atmosphere with a very beautiful stretch of white sand. In addition to Atuh beach you can also visit the famous Diamond beach, as for the location of this beach not too far from Atuh Beach. If you want to go there, we have the right nusa penida package for you, where besides Atuh beach you can also visit other tourism sites, as for our package, the Bali East Nusa Penida Tour which is specially made to visit the beauty of the tourism site located in eastern area of ​​nusa penida, and if you want to visit the western and eastern areas, you can take the Bali West and East Nusa Penida package. The prices we offer are cheap and affordable with very satisfying service and we guarantee that this trip will be more and more enjoyable. Enjoy a holiday on the island of Bali by visiting Atuh Beach and other tourist attractions located in the eastern area of ​​Nusa Penida