Location Angel Billabong
The location of Angel Billabong Beach is located in Banjar Sumpang, Nusa Penida District, Klungkung Regency. A tourist destination that is very famous for its unique Natural Infinity Pool which makes this tourist destination very attractive to foreign and domestic tourists. As for getting to Angel Billabong, you will need sea transportation such as a fast boat located at the port of Sanur, and if you are from Kuta or Seminyak it takes about 30 minutes to reach the Sanur Harbor location, and in Sanur you will take a fast boat which takes travel time. about 45 minutes from Sanur to Nusa Penida, and from Nusa Penida by car to Angel Billabong it takes about 30 minutes by foot. If you want to explore on your own, you can rent a motorbike at the port and use a motorbike to go to angel billabong with the help of google maps will lead you to this place, but if you don't want to explore on your own, we from Bali Tours offer the Bali West Nusa Penida Tour to visit Angel billabong tourist destinations and also visit phenomenal tourist destinations such as Kelingking Beach on the western island of Nusa Penida
Popular Tourist Attraction of Angel Billabong
When talking about Nusa Penida, it can't be separated from the beach, because in Nusa Penida most of the tourist objects are beaches. Of the many tourism site in Nusa Penida, only a few are already known and some are still undiscovered. Here we will explain the Angel Billabong Beach tourist attraction which is quite unique from most beach attractions in Nusa Penida. Angel Billabong is becoming more and more famous among foreign and domestic tourists from day to day, with its very beautiful scenery and uniqueness, very worthy as a favorite tourist attraction in Nusa Penida. One of the most famous tourist objects if you visit the western area of ​​Nusa Penida, with its natural beauty, and the naturally formed lagoon, invites the curiosity of tourists to see the actual beauty of this immeasurable nature. Enjoy taking pictures with the natural pool in the background at Angel billabong
The Uniqueness of the Angel Billabong Beach
The uniqueness of the Angel Billabong Beach tourist attraction is located in a puddle where tourists can jump to swim in the pool. But if the water is very high, it is strictly forbidden to go down to the pool, because it is too dangerous. If the water recedes you can swim in this place while seeing a very impressive sight. As for the shore, it looks like an infinity pool, which on the edge faces the sea, it looks as if we are swimming in the sea. A very memorable experience to visit Angel Billabong Beach in Nusa Penida. If you swim to the end of the cliff, it will look like an infinity pool which is very enchanting, this is a very beautiful work of nature, it is appropriate to often call it the Natural Infinity Pool Angel Billabong, because it is made by nature, where the rocks here are eroded by the waves sea ​​water that makes a shape like a small swimming pool. You can go down if the water is not big, and if the water is big it is very dangerous to go down to the pool, because the current is very strong.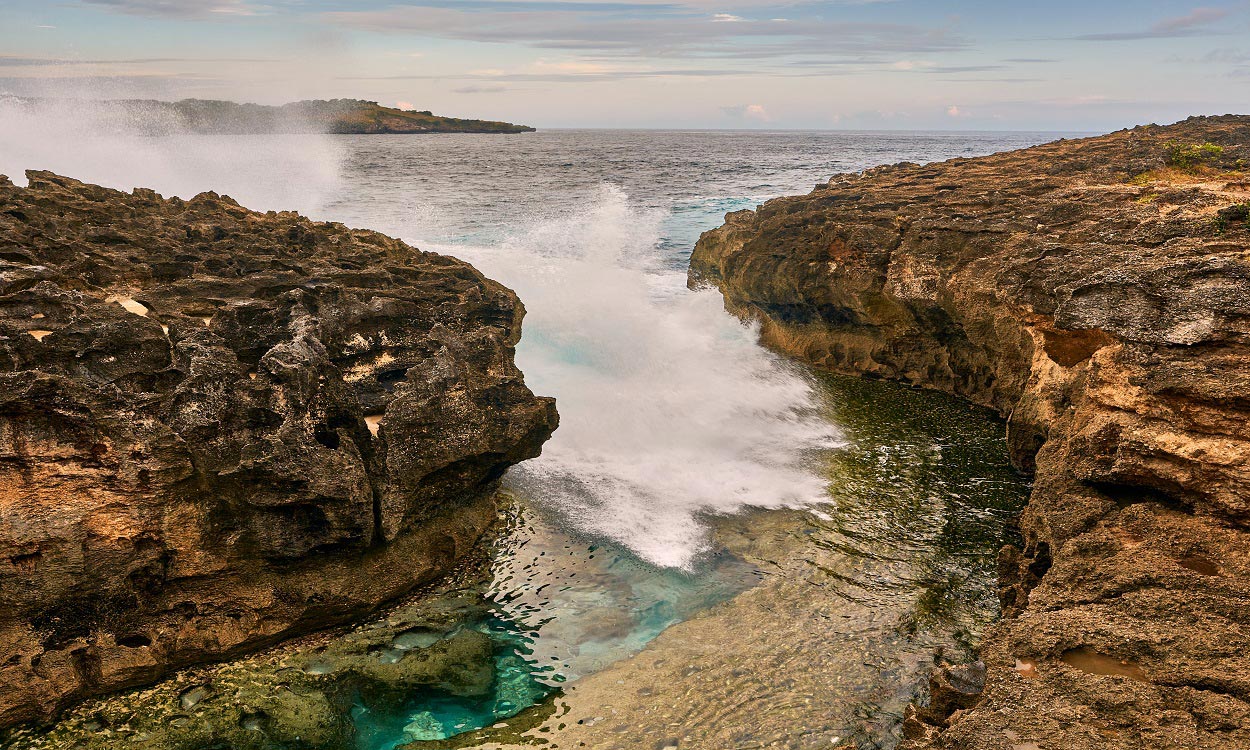 History name of the Angel Billabong Beach
According to local people the name of the Angel Billabong Beach come from mythic story if this place is place for Angel bath, so this place is often called Angel Billabong. Angel's which means angel. What means this place is Bidadari, Nusa Penida. And the word billabong in English means the end. The end of a river that is dead-end, this occurs when the direction of the river branched out and one end was deadlocked. The Angel Billabong Beach is a Natural Rock Lagoon with beautiful scenic seascape located in the shore that offer amazing view, this place is often visited by foreign or local tourists to enjoy the beautiful scenery. You can go down and see from near the beauty of this nature form rock and also you can swim in this nature lagoon if the water is low tide, if water high tide is not allowed to go down to the lagoon. This pool in Angel's Billabong Beach is the final estuary of the Nusa Penida River which is crushed by coral cliffs before reaching the open sea. Located in the middle of the reef that is split and in the middle forms a pond. The water in this pond is from rivers and the high seas which are separated by coral cliffs and directly adjacent to the Angel's Billabong pool. When the tide rises, sea water will enter this pond. So if you swim at Angel Billabong Beach you have to be careful and see the tides of the sea.
What to do at Angel Billabong
Angel Billabong Beach, which is popularly known as Natural Infinity Angel Billabong Beach is always a conversation among foreign tourists, and is never deserted by visitors, every day hundreds of people can visit this place, so beautiful that this place is never deserted. Besides the infinity pool which is very beautiful and very instagramable, the beach views here are also very enchanting, no wonder this angel billabong is one of the must-visit tourist destinations when visiting the western area of ​​​​the island of Nusa Penida. Some of the things you can do at Angel Billabong Beach are as follows:
Bathing: As an Infinity pool, it feels incomplete if you don't feel like soaking here, if the sea water is not big here, you can go down to this infinity pool and feel the warm sea water here and feel the sensation of soaking here, if you soak always be aware of the water the sea that comes, because it does not know when the sea water will be large and small. an experience that you may not forget while spending time on the island of Bali by visiting Nusa Penida.
Photography: As a very popular place, of course this angel billabong is very suitable to be used as photo material for your Instagram, the resulting photos are very tempting and full of beauty and beauty, will make people who see it very curious. If you visit angel billabong don't forget to immortalize it in a photo so that later you can remember the times when you visited this place, let it become a photo memory that you can remember in the future
Ocean Views: Besides that you can also enjoy the beauty of the view of the expanse of the blue sea which is very amazing, see the coral reefs on the beach which is very beautiful, a sight that may not be forgotten during your life to see the uniqueness of this angel billabong on a remote island , the sea view will always make the heart feel calm and comfortable when you see it. You can see this view from the rock located here and see the blue sea view which is very tempting
How Get to Angel Billabong Beach
As you know, if Angel Billabong beach is located on the island of Nusa Penida which is a small island that is part of the island of Bali and transportation access to get there is only through sea transportation such as fast boats and as for the port to get there, most use the port in Sanur. It is very difficult if you travel alone without a tour company, because there are many things you need to organize for get to Nusa Penida, such as sea transportation and land transportation in Nusa Penida. Here we make it easy to get there by taking one of our Nusa Penida tour. Here we from Bali Tour have several tour programs to visit the beauty of Angel Billabong beach, namely the Bali West Nusa Penida Tour, with relatively cheap prices and satisfying service. The Bali Nusa Penida Tour Package price includes return hotel transfers, fast boat return tickets, transportation on the island of Nusa Penida and lunch with Indonesian food. So if you have plans to visit Angel Billabong Beach or other tourist attractions on Nusa Penida Island, we will be happy to take you to visit the natural beauty found in Nusa Penida.
Facilities at Angel Billabong
The facilities available at Angel Billabong Beach are very complete, so guests feel comfortable and calm when visiting one of the Natural Infinity Pool tourist destinations on Angel beach. There is a large parking area, so you don't have to worry anymore about parking your vehicle, there are shops selling cold food and drinks around this angel billabong beach, you can stop by this shop and rest after a tiring journey. There are toilet facilities who want to use the toilet here, there is a place for selfie photos here, for those who like photos this place is perfect. A very complete facility, it is not surprising that tourists are very comfortable to linger in this Natural Angel Billabong Infinity pool. For those of you who want to come here, there is no need for the existing facilities, as a popular tourist destination, it provides very complete facilities that will make you feel at home for a long time at Angel Billabong.