Ubud Art Market where the existence is not far different from other markets available in the tourism area. Ubud Market as a society economics center of Ubud and it is apposite to the existence of Ubud Royal Palace that is most known as Puri Saren Ubud. The market is unfolding from west to easterly divided become two group with different purpose. There are two markets available at the same area those are one block at the Westside is for a traditional artistic market and another block located in the east as an everyday traditional fundamental market requirement. A tourist destination where you will visit traditional markets to see the goods sold here, see transactions between sellers and buyers here, and also to buy handicrafts as souvenirs that you have visited Ubud market with all its uniqueness.
All you need to know about Ubud Art Market
Ubud Art Market Location
As for the location of Ubud Art Market , it is very easy to find, because it is located in Ubud Town, with the address Jl. Raya Ubud, Ubud, Ubud District, Gianyar Regency, Bali 80571. The location of this ubud market is very strategic and is located with very famous tourist destinations such as Ubud Royal Palace, Ubud Monkey Forest and Saraswati Temple. If you happen to visit Ubud village, it would be nice if you visit other tourist destinations near this Ubud market. If you drive from Kuta or Seminyak it will take a 2 hour trip, with directions at each red light will make it easier for you to find the location of this Ubud market. If you don't want to bother driving yourself, you can use our Bali Tour services, namely Hire Car and Driver for a day and visit this Ubud Market and also other tourist destinations in Ubud, with a friendly and experienced driver that will make this trip even more enjoyable. Enjoy Holidays on the island of Bali by visiting one of the largest and most comprehensive art centers in Ubud village with affordable prices and pretty good quality
Traditional Market Bali
Before we talk further about the Ubud market, it is better to know if it is a traditional market in Bali. Long ago, before the existence of money as the value of buying and selling, the system used here was a barter system with daily goods carried out by the local community. The value of the goods being bartered is based on whether the goods are important or not, if the goods are very important, they can be bartered for many goods. From the beginning, traditional markets have played a very important role in regional development and the formation of cities. As a center of economic activity in the market, it will also generate the growth of human resources in the vicinity such as employment in the market, the construction of settlements near the market so that slowly the sea will develop rapidly and become a very broad market and invite many sellers from outside the area to go to the market. to this market and will make the welfare of the people in the village be fulfilled, ubud market become the Ubud Central Market for all goods sell in Ubud Village long time ago
Ubud Market History
Ubud Market has existed since ancient times, along with the construction of the Ubud Palace, which was around the 1800s, since Ida Tjokorde Kandel as the King of Ubud at that time, where for the welfare of the people around Ubud, the Ubud Market was built which is located in front of the Ubud Palace. In the past, the system used was a barter system and since getting to know currency, the payment system in this market uses currency as the transaction value. And since the first wave of tourists brought by Tjokorde Agung Sukawati to visit the village of Ubud, this ubud market has grown from initially selling household necessities to selling various handicrafts for tourists, but the function of this market is still what it was originally. make it a place for transactions for local ubud residents who want to sell and buy necessities or everyday items. And the Ubud market, which was originally a traditional market, has slowly become an art market that sells various kinds of artistic goods for tourists
Complex Building Ubud Market
Over time, Ubud Market is increasingly recognized by tourists who make shops that sell daily necessities and those who sell art items are mixed up here, so to arrange it so that it looks very neat, the Ubud Market building was restored and divided into 2 complex buildings, so that it will be looks very neat and will make visitors happy and feel at home to linger in this ubud market, as for the complex of this ubud market can be explained based on the goods it sells.
Ubud Traditional Market: This traditional market building is located east of this Ubud market, It is a traditional market that sells various kinds of local needs of the residents here from various foods such as meat, vegetables, eggs and also prayer equipment, most of the visitors are local residents in Ubud, although there are also those from outside Ubud who shop for necessities. here. And this ubud market starts to open from the early hours of 03.00 and sells necessities for local residents who want to shop to cook for their families and close around noon and some are closed until the afternoon, but the busiest activity in this ubud market is in the morning. If you visit in the morning, you will see a lot of locals going to this Ubud market.
Ubud Art Market: The Ubud art market building is located to the west of the traditional market, so you could say the location is next to each other, only the building and function of the market are different. This is a market that was built specifically for tourists, where the shape of the building is now very modern, and there are many shops lined up in this building that sell various kinds of handicrafts and souvenirs, as for the items sold in this art market are such as paintings, wood carvings, beach clothes, sarongs, and other handicrafts that are in great demand by foreign tourists. If you want to buy handicrafts, then this ubud market is something you must visit besides the items being sold are very complete, the prices set are also very reasonable, where here there is no fixed price, but a price that you can bargain so as to reach an agreement between the seller and buyers.
So it can be said that 1 building called Ubud Traditional Market sells various basic necessities for local residents in Ubud Village and also 1 building called Ubud Art Market which sells various kinds of handicrafts and souvenirs for foreign and domestic tourists. If you want to see the activities of local residents at the market, you can visit the Ubud market and continue to visit the Ubud Art Market to see the handicrafts and souvenirs sold here. An experience that will not be forgotten to see the social activities of the ubud village community at this traditional market
Ubud Art Market is a Center of Art Market in Bali
From the beginning, tourism entered the village of ubud which made the Ubud Art Market very famous and many artists brought their handicrafts or works to the ubud art market, from painting, silver, wood and cloth crafts sold to the ubud art market for resale. to tourists, thus making this ubud art market a trading center for regional arts around ubud. And the village of Ubud as a producer of artists who make a lot of handicrafts sold here is very beautiful and very beautiful, no wonder if the tourists used to flock to Ubud looking for very beautiful handicrafts. So the Ubud art market is called the center of the art market in Bali. The art crafting are sold in this ubud art market consisted of various crafting, from traditional until contemporary crafting which its price is relatively cheap. You can do the transaction directly to the merchant which generally can be bargained. All the crafting sold in this place you can bring home as souvenir like slipper, wood idol, bag, clothes, matting, painting and a lot of more. If you visit Ubud Village, don't miss the opportunity to visit this Ubud market, just to see the uniqueness of this Ubud art market or shop for art items at this Ubud market
Eat, Pray, Love at Ubud Art Market
Ubud Art Market has always been one of the most popular tourist destinations in ubud village which will always leave a positive impression for the tourists who visit it, and the ubud art market is never deserted by the tourists who visit here, thus making this ubud market always crowded. In addition to tourists, there are several foreign artists who also use the Ubud market in the film, namely Julia Roberts in the 2009 film Eat, Pray and Love, making this Ubud market even more famous and many tourists visiting and following in the footsteps of Julia Roberts who made the Ubud market more popular. one of the scenes in this ubud market. In addition, there are also local artists in Indonesia who make the Ubud market one of the places in the movie scene. With the characteristics of this Ubud art market which will always give happiness to those who come to visit. If you happen to be on the island of Bali and visit ubud, it would be nice if you visit this ubud market and see the uniqueness and social activities life that are here in Ubud market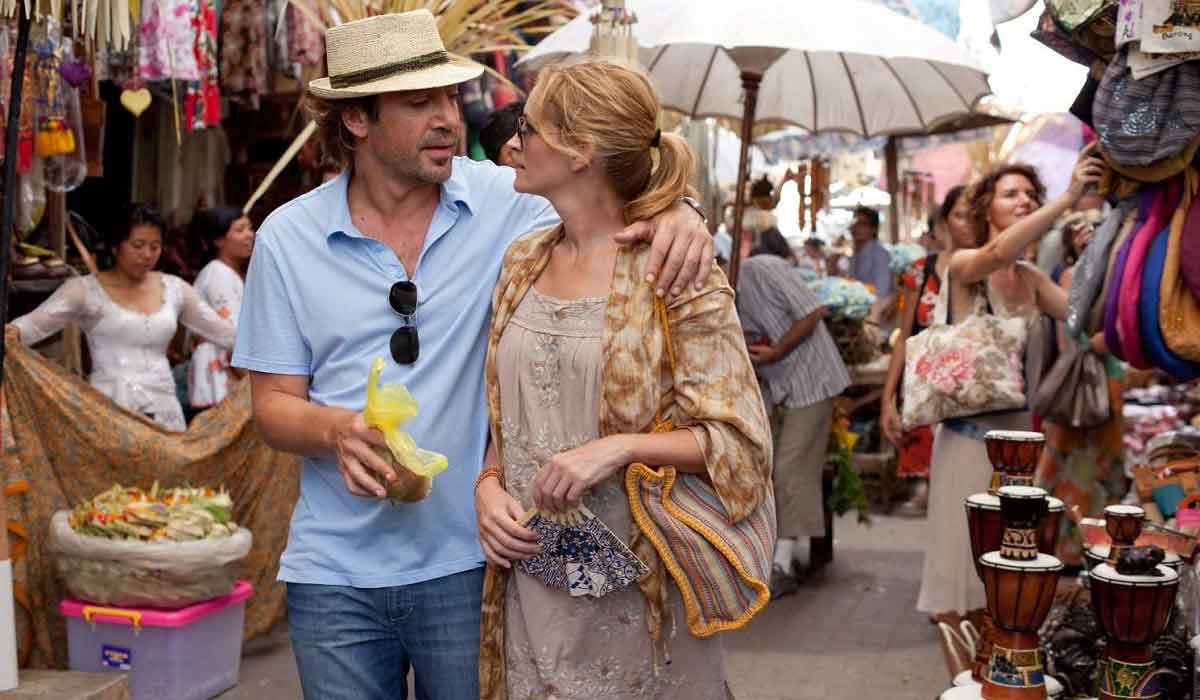 What To Buy at Ubud Art Market
The items that you can buy at the Ubud Art Market are all kinds of knick-knacks, very beautiful art tools, various handicrafts made of wood, rattan, and others. And there are also art items in the form of paintings and silver that are sold here with very good quality items. If you could say that the handicrafts sold here are very complete and each shop sells different items so you can freely walk around the complex of this Ubud Art Market, from one shop to another to hunt for handicrafts and souvenirs. And the pegged price is not fixed but the price can be negotiated, if you want to get a good price, you can bargain until an agreement is reached between the seller and the buyer. A bargaining activity that you may not find in supermarkets, which you can only find in traditional markets, an experience that may not be forgotten during your holiday in Bali and visiting the Ubud market which is very full of handicrafts which is very tempting to buy it
Ubud Art Market Opening Hours
As for the most popular tourist destination in Ubud Village, it would be nice if you know the opening hours of this Ubud Art Market, which is open from 09.00 am - 17.00 pm, if by chance you are at that hour you can visit the ubud market, if you are outside At that time you can come back the next day, but there are also shops that are open from 08.00 and some are closed until 18.30 pm, but on average they all close at 17.00 pm. If you plan to visit the Ubud market, you should arrange your schedule in advance, so that it is not useless to come here but the market is closed or not yet open. Vacations in Bali will feel very complete if you visit one of the largest and most famous art markets in Ubud village with all kinds of handicrafts sold will make this market very complete in meeting the needs of foreign and domestic tourists.
Ubud Night Market
The Ubud Night Market is not located in this Ubud Market, but you can see it at the Sayan Market in Ubud, which is not far from the Ubud market. The Night Market is called by local residents as Pasar Senggol which is only open at night, while the opening hours are between 19.00 pm - 24.00 pm, and at Senggol market or this night market, only local specialties and clothes are sold here, but mostly selling local specialties. If you want a different feel you can go to this Ubud Night Market which is located in Sayan Ubud, and feel the experience to see the market life at night in this Ubud village. You will see many food vendors here which are usually devoted to local residents, but not infrequently there are also many tourists who come to the night market who are just curious and also want to taste local food which is very tasty and the price is not expensive. An experience that you may not forget, where you can mingle with the locals at the Ubud night market and see the hustle and bustle of market activities at nightargest and most famous art markets in Ubud village with all kinds of handicrafts sold will make this market very complete in meeting the needs of foreign and domestic tourists.
Facilities at Ubud Art Market
As one of the most complete and largest art markets in Ubud village, the facilities to pamper guests who visit here are very complete, there is a parking area that is quite large and can accommodate many vehicles here, so you don't have to worry anymore to find a parking space here. . There are toilet facilities that you can use here by paying a modest donation you can already use them, there are many small shops selling drinks and snacks here, and also a row of shops selling handicrafts which are very beautiful and will certainly make you feel at home walking around the area. in search of art crafts that are very cheap and very beautiful. Those are some of the main facilities that will certainly make visitors not have to worry about visiting the Ubud art market. It will definitely make you come back again in the hunt for souvenirs for your family and friends. We from Bali Tour wish you a happy tour of the ubud market and see the beauty and uniqueness of this very beautiful and enchanting ubud art market