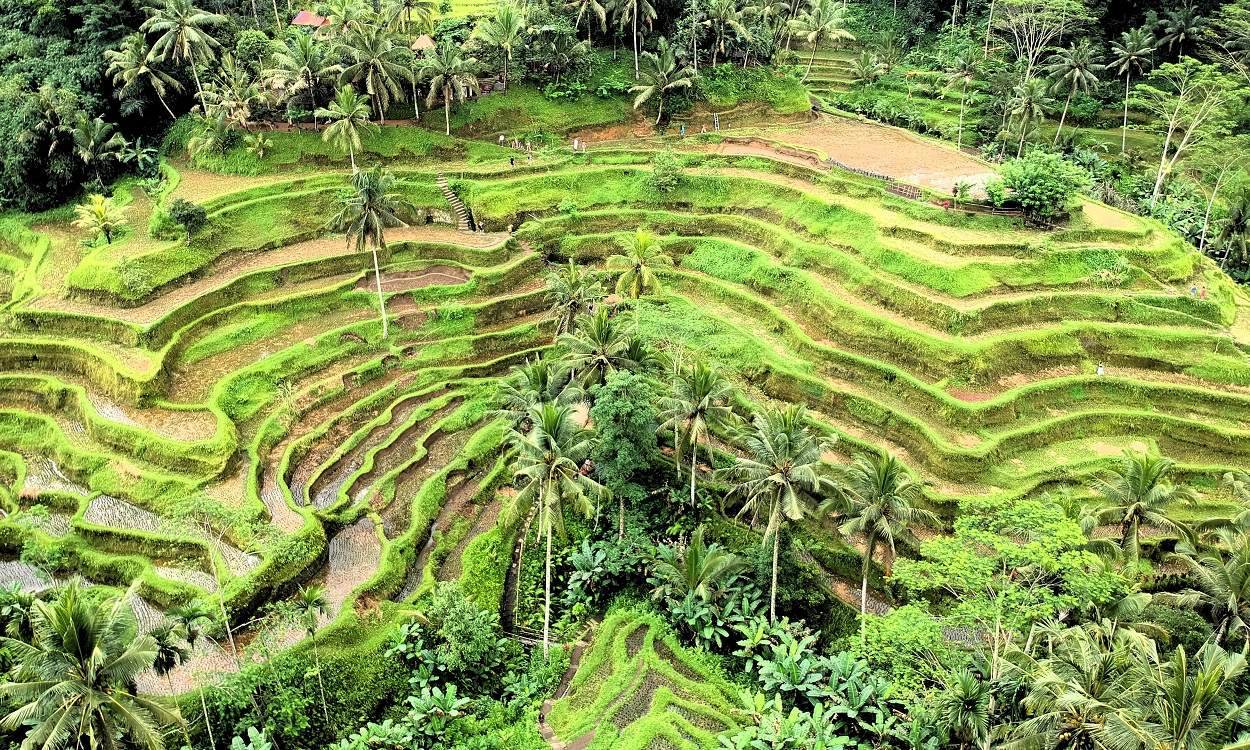 Tegallalang Rice Terrace located on the north side of Ubud around 20 minutes drive. This area is famous tourist attraction for beautiful rice terraces, many tourists who travel to and from Kintamani stopped at this place to witness the beauty of the verdant terraced rice field scenery or having lunch at the restaurant while enjoying the beautiful scenery of terraced rice fields. Tegallalang Rice Terrace is one of the tourist icon in Ubud Bali which is always never deserted by foreign and domestic tourists, and is one of the most popular tourist destinations in Ubud village, besides Tegenungan Waterfall which is also famous among tourists, for lovers of natural scenery, this Tegenungan rice terrace tourist destination must be visited. because the natural scenery is very enchanting will complete your adventure on this beloved island of Bali
If you visit Tegalalang Rice Terrace, here's what you need to know :
Tegallalang Rice Terrace Location
As for the location of the Tegallalang Rice Terrace, it is located in Ceking village, Tegalalang, Ubud, Bali, precisely located north of Ubud village which is located on the main road leading to Kintamani village. If you drive from Kuta or Denpasar city center it will take about 2 hours drive by car or motorbike, if from Ubud city center it only takes about 30 minutes. If you visit the island of Bali, then you should visit Tegallalang with all the beauty of the terrace that will often complete your holiday on the island of Bali. If you don't want to bother driving alone then you can use our services Bali Car Charter to get here with an experienced driver will make the trip very enjoyable, and if you want to visit other tourist destinations in Ubud, you can take the Full Day Ubud Tour which is very popular to find out more about the beauty and uniqueness of Ubud village
Beautiful View of Tegallalang Rice Terrace
The Tegallalang rice terrace is designed very beautiful with exquisite hollowing rice field and precisely located on the hill bank. In this place, you will see the Balinese farmer do their rice field in oblique area complete with its system irrigation. You will enjoy the beautiful panorama of valley with rice terrace and coconut trees ornament it. Enjoy the beautiful natural scenery at the Tegalalang Rice Terrace. When talking about rice field attractions, always talking about the Tegallalang rice fields in Ubud area which are famous for their sloping terraces and the beauty of the rice fields that really spoil your eyes. The Tegallalang rice fields are also often referred to as Ceking rice fields because they are located in Ceking village. This rice field is a very famous stopover place, because it is located on the main road leading to the village of Kintamani, many tourists stop here for a moment to see the very beautiful nature works while taking photos with the background of this Tegallalang rice field.
Short Trekking at Tegallalang Rice Terrace
Here if you have a lot of time and are not in a hurry, you can do a short trekking by going down to this rice field and seeing the activities of farmers in caring for their fields. The sound of water from the river that pampers your ears and the cool breeze will make you feel like returning to nature. As for trekking here, it is rather difficult, because in the rice fields there are no concrete roads, only paths made of soil that make the soil slippery when exposed to water, so you have to be extra careful if you want to do short trekking here. The expanse of coconut trees around the rice fields makes the scenery even more beautiful. A very extraordinary experience where you can see up close the rice that has just grown or has grown with a very enchanting green color, an extraordinary sensation to see rice fields in Bali directly. So don't miss this rare opportunity if by chance or visiting the Tegalalang rice terrace, enjoy your time to look closely at the rice plant which is a staple food producer for humans.
Souvenirs Shops at Tegallalang Rice Terrace
The northern part of Ubud, there is one area called Tegallalang, where many great home industries. Hundreds of miscellaneous crafts of cat and mouse, dolphin, giraffe, etc. that are made of wood or iron were manufactured here. Other handicrafts produced are bags of different models from a variety of materials, stone carvings, cheap wooden carvings, wooden masks, all sorts of glass handicrafts is formed into a vase, unique bottles or plates. Everything is here. Shop and showroom is lined up along the 10 km, if we're shopping here, of course depends on how thick is your pocket. It's endless. A fairly complete souvenir place is here from various kinds of handicrafts that you can buy as gifts for your friends or relatives, the prices here do not have a fixed price, that is, you can bargain the price, if your bargaining skills are good then you can get it at a cheap price .
Aloha Swing at Tegallalang Rice Terrace
There is also a very interesting activity here, namely the Bali Swing where you can swing with a very stunning view. For those of you who have done swings as a child, surely you know the pleasant sensation that this activity provides. You can repeat your childhood memories by swinging in this Tegalalang village, as for the company that provides game swings here, Aloha Swing, with relatively affordable prices and very impressive sensations, besides swing there are many photo spots that are no less interesting, such as bird nests. and others. So when you visit the Tegalalang rice terrace and want to swing, how about stopping by this Aloha Swing place. It is an incredibly beautiful experience when visiting this Tegalalang rice terrace and doing swing activities here, enjoy taking pictures in various photo spots and give color to your life by capturing them in photos that you will always remember and remind. Have you ever visited this phenomenal Tegalalang rice terrace
How Get To Tegallalang Rice Terrace
To get to the Tegalalang rice terrace, there are several ways you can do, such as renting a car / motorbike and driving yourself and armed with a google map to reach this location. You can also rent transportation which includes a car, driver and gasoline with a half day or full day duration. If you are interested in visiting the Tegallalang rice terrace, you can take our tour packages such asBali Ubud and Kintamani Tour with affordable prices and of course very satisfying service. And if you just want to spend time here and without rushing, you can rent transportation to our company Bali Tourwith a private car and a friendly experienced driver. For those of you who are nature lovers, don't miss this Tegallalang Rice Terace tourist attraction, because it is guaranteed to make your nature tour more enjoyable. So what are you waiting for, visit this phenomenal Tegallalang rice terrace and give color to your holiday and on the island of Bali by visiting the incomparable natural beauty of this rice terrace, if you need information please contact us, we will be very happy to help you in planning the journey to this Tegalalang rice terrace