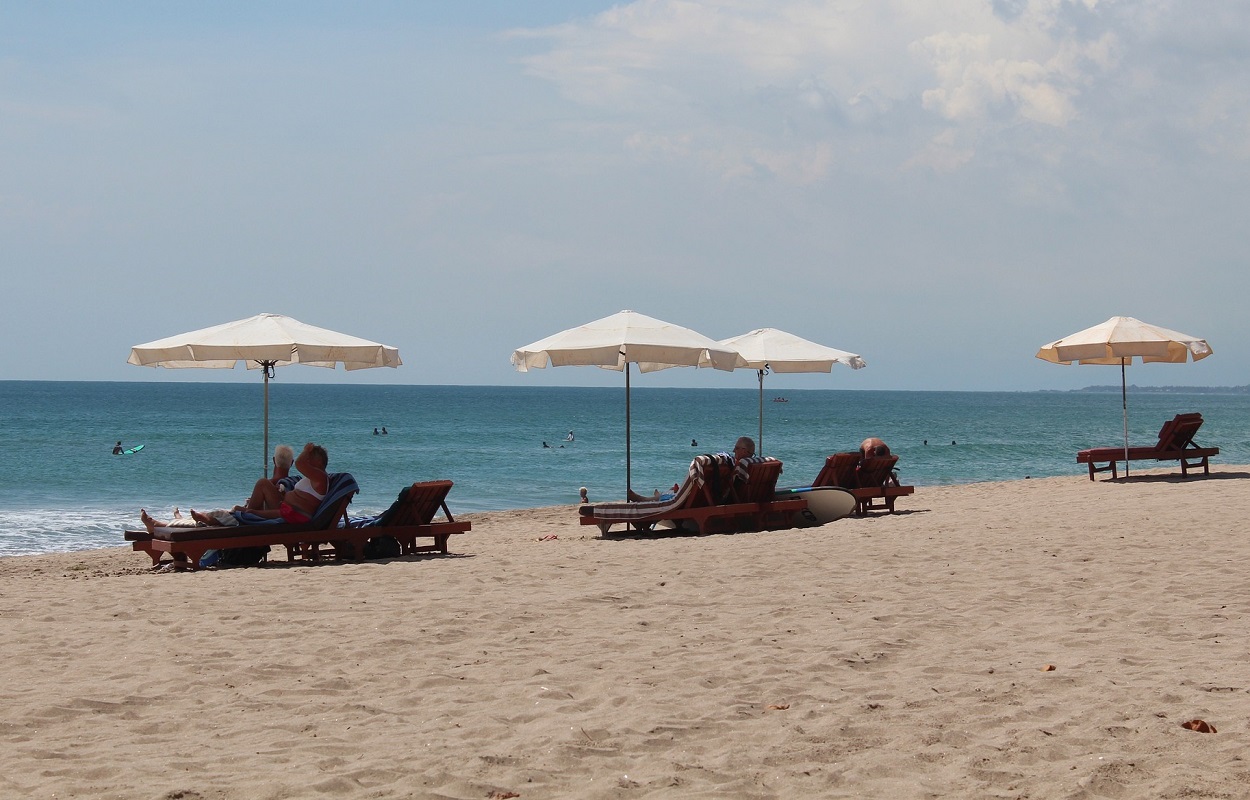 Kuta Beach is a very popular tourist destination among tourists, besides its very strategic location in the center of tourism activities, the beach offers white sand, clear water and all activities on the beach which are very fun. It is the most famous beach resort on the island and most called as Paradise Beach Bali. Kuta Beach is the bustling area with the most tourists in all over Bali. In the past, it was only a very small village. Nowadays, it has developed into a prosperous tourist resort. On the beach, there are many peddlers along the street, selling various local specialties, such as crafts, T-shirts, beach clothes and accessories. As the beach is windy with high waves, it is not suitable for boating or swimming there. But it is an ideal place for wind surfing, which is favored by the young who look for excitement. It is also an ideal place for watching the beautiful sunset. At night, there are local Balinese singing and dancing, performing especially for tourists.
All you need to know about Kuta Beach Bali :
Location of Kuta Beach
As for the location of Kuta Beach, it is located on Jalan Pantai Kuta, Badung Regency, Bali, Indonesia. in the center of tourism in Bali, which is located close to the airport, about 15 minutes drive from the airport to get to this Kuta beach. Kuta beach is very easy to find, because Kuta beach is very famous and has even become a beach icon on the island of Bali. The location of kuta beach is close to five-star hotels along the road near the beach, close to the largest shopping mall in Bali, close to restaurants of various kinds of food here and close to small shops that sell various kinds of equipment from surfing equipment, clothes , handicrafts and others that will make you feel at home to linger in this Kuta beach area. No wonder this strategic location makes Kuta beach always one of the programs that must be visited when vacationing on the island of Bali
Kuta Beach History
Since the 18th century Kuta has served as the entry for foreigners visiting southern Bali. In the 1830s Kuta was a thriving slave market, attracting a wide variety of inter­national 'lowlifes'. Since its rediscovery by hippies and surfers in the 1960s, Kuta and Legian have expanded so rapidly that the district is now one of the busiest tourist areas in the world. At three hundred year ago, in this place had been built a Konco (Buddhist Temple) located beside of Tukad Mati ( Dead River) where it river can be navigable at that time. The boat steps into the hinterland of Kuta, so that Kuta is a port trade. Mad Lange is a merchant from Denmark in 19 century had built its trade station in the river periph­ery. During living in Bali, he often becomes the medium between king of Bali and Dutch. Mad Lange has mysteriously died and his grave is located inside of Konco ( Buddhist Temple ) right in the river periphery. Kuta is quiet fisherman countryside in the past, but now it has been turned into the hilarious town and it is completed by post office, po­lice office, market, pharmacy, photo center, and shop. There are a lot of hotels which are designed luxury and comfortable set in a long side of white sandy beach of Kuta .
Paradise Beach in Bali Islands
Kuta Beach is just like a holiday paradise with beautiful clean beach, numerous shops, bars, restaurants and shopping centers. With the beauty of this Kuta beach, it is very fitting to bear the nickname paradise beach which is the dream of beach tourism lovers, where with white sand, clear water and good waves, many tourists come here to swim, sunbathe or surf. The beach is very complete and no wonder every day Kuta beach is always crowded with visitors from domestic and foreign. If you visit the island of Bali, it will not be complete if you haven't visited this Kuta beach which with all its natural beauty will complete your holiday on this beloved island. Kuta Beach is not only a unique scenic spot for sun bathing and water activities, but also a perfect place for watching sunset. The commercial area in the center of Kuta Square is a new and modern shopping skyscraper.
What you can do at Kuta Beach
As the center of tourism activities in Bali, Kuta Beach has a variety of activities that you can do here in your spare time, by seeing the natural scenery of the beach which is so beautiful that it will complete your curiosity about Kuta Beach which is the Icon of the island of Bali. With the various activities found on the beach, your days during your visit here will be very enjoyable. As for some things you can do on Kuta beach and around Kuta beach
Swimming: Here with clear water makes Kuta beach very ideal for swimming, many tourists who visit here enjoy the beautiful and clear beach by swimming. The sensation of swimming is very pleasant, where swimming on a paradise beach is phenomenally beautiful
Sunbathing: This is a very suitable place to enjoy the hot sun by sunbathing on the beach, on the beach there are many tent rental services that you can use for sunbathing diving in this place, with a relatively cheap price will make the sunbathing atmosphere very pleasant.
Surfing: With good waves, not big and not small, making Kuta beach very suitable for those of you who want to learn to surf, here on the beach there are many surfing learning services, you can try it if you want to learn to surf on this Kuta beach, enjoy sports water on paradise beach bali
Massage: Besides that, there are also massage services on the beach, which are usually standby near the tent and offer massage services, you can try it while sunbathing in the tent and feel the sensation of a very good massage and will make your body feel fresh again after a long activity. exhausting
Restaurant: In front of Kuta beach there are many restaurants with very good quality food, you can enjoy lunch here while looking at this very beautiful beach. With a price that is not too expensive it will make the feeling of eating very pleasant.
Shopping Mall: In front of the beach there is the largest and most complete shopping mall in Bali called Discovery Shopping Mall, where after from the beach you can come here to see or shop at this shopping mall, with very complete items that will meet your needs in looking for the item you want.
There are still many small activities that you can do along Kuta Beach road and in the surrounding area, you can walk around the Kuta beach road and there are many activities such as tattoo services for those of you who want to have tattoos, spas and massages around the Kuta beach road, shops selling handicrafts and souvenirs, restaurants of various types of food are here, and also other things you can do here that will make time go by so fast
Kuta Beach Night Life
Party central, Kuta at night refers to the area extending about 7km north of the original village of Kuta. This area now includes Legian, Seminyak and even Basangkasa. The Kuta area is the epicenter of Balis nightlife. The majority of Bali's better entertainment places offer anything and everything a 'night owl' would want. Located at the center of the original village are Kuta's many open-air pubs and discos. A nightlife that fits perfectly with life in your country where many clubs, restaurants and pubs are open until late, here you can spend time with your friends or family.
Entrance to bars is usually free with special drinks promotions and Happy Hours from 6pm to 9pm, and sometimes even longer. Legian street, Kuta Street and Padma Street have the biggest concentration of watering holes. Take up the option of joining surfers to guz­zle beer, play pool and watch surfing videos cafe or drop by the eye-catching and uniquely sailship-shaped Bounty Res­taurant I, which sways to the music of its dance floor till dawn. Take a walk on double six street, where here you will see many pubs and bars that are open until evening, the strains of the season will greet you and the pub sales will approach you and offer to enter the club, the atmosphere is similar to the nightlife outside a country with live music in every bar and restaurant will accompany your nightlife to be more meaningful
One of Bali's latest and most extraor­dinary; this place jazzes it up every Sunday from 10.30pm and invites guests to jam along on Friday nights. For a rare and special combination of Balinese dancing and rock bands near the beach, head straight for the Zero Six in Tuban while the new Hard Rock Cafe draws the crowds with live music and pricey drinks. Other live music spots include the Aussie-style 'pubs' along Melasti street and the semi-submerged bar and restaurant available here. Classier up-market hotels around padma street and legian street offer more relaxed entertainment