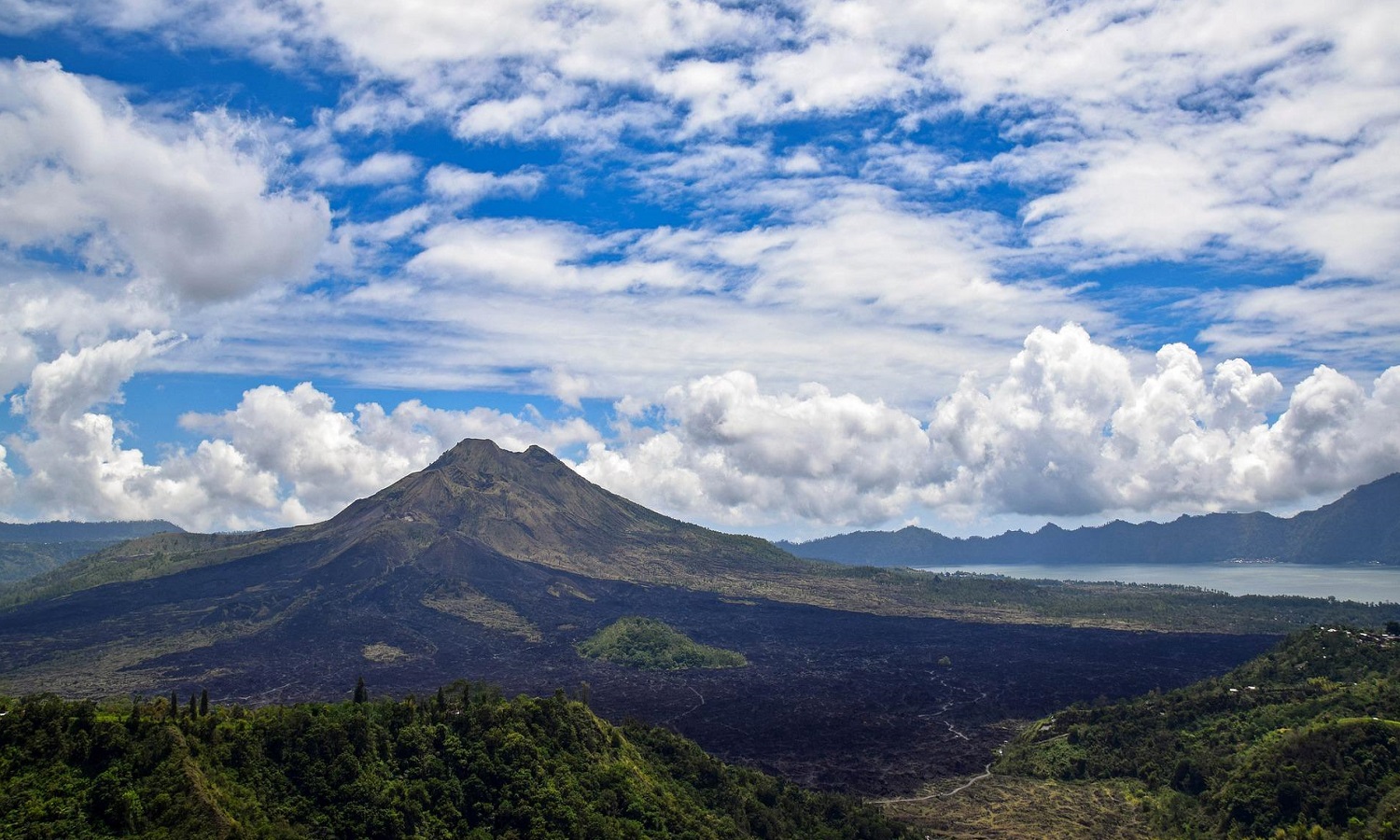 Bali Kintamani Village is 1500 meters high, the village of Kintamani his a cool, damp climate suited to growing oranges and passion fruit and on market day, which falls every third day, the main street becomes a bustling chaos of vendors, some of whom have traveled from far away, carrying their wares on horseback. Kintamani is the object of mountain tourism is very unique and stunning, with cool air condition in the daytime and cold at night. Tourism Object is located in the area is located in the village of Batur Batur, Kintamani District Level II Regional District Bangli. As for the route object, Object linking tourism with the Tourism Regions Tourism Batur and Besakih Temple Tampaksiring. To reach these locations can be taken through the journey overland from Denpasar for 2 hours, exactly to the place called Penelokan. In accordance with its name in Balinese, Penelokan means most strategic place to see the sights of nature in this tourist location. Located in the region Penelokan Kedisan village, one village in Kintamani District.
All you need to know about Kintamani Village Bali
History of Kintamani Village Bali
As for the history of Kintamani, there are several sources that can be believed to be its history, which is obtained from several sources and conclusions can be drawn that are very important in uncovering the history of Kintamani village which is very famous for its tourist destination Mount Batur View Point. As for the sources that tell about the history of Kintamani, based on history books written by historical writers, it can be concluded that the history of Kintamani based on history books is as follows:
According to the opinion of the late Drs. I Nyoman Singgin Wikarman (a character, a fan of ancient literature from the Kintamani Bangli sub-district, thinks that Cintamani is a Sanskrit term found in the Vedas which means "something that can give inner and outer happiness, wahya adhyamitka, (Bhukti Mukti), so naturally Raja Singha Mandhawa gave permission to the Bhiksu to build a hermitage on Cintamani Mmal Hill, because it was believed and felt that this place could bring happiness to those who inhabit it. This has been proven until now if there are residents who have lived in Kintamani Village for a long time will be reluctant to return to their original areas.
According to Sukarto, 1980: 2, the opinion that the word Cintamani comes from the words "Love and Mani". Love means romance, romance. Attractive, and mani means manikam, gem,. So Cintamani can be interpreted as a very interesting gem / love charm. From Cintamani to Kintamani, like Coromandel to Coromandel from India. According to I Gede Pudja., MA., SH in the Vedic book Introduction to Hinduism, argues that the word Cintamani is contained in the Vedas, namely a Maha Rsi who wrote the Dhanur Veda / War Engineering / Weaponry Science named "Maha Rsi Wira Chintamani" In Central Java there is a village called "Cintamanik". In Kekawin Ramayana Volume 2, sargah 24, in Wirama Sarisi verse 62, page 702 it reads "Ika sugati alternating ta apageh, Susila salayania tan singsala, Twanging maguru gorawa angken garit, Ciwarcana cinita Cintamani". Which is where in the Marriage of Ramayana Volume 2 the word Cintamani means "Bead of Asta Gina". This greatly strengthens the reality of the existence of Kintamani Village. Whereas in the Pakraman village, Kintamani has built a temple called Pura Manik Astagina, which is located to the east of Pura Tenten/Pasar Agung. This temple by Krama Desa Kintamani is believed to be the manifestation of Hyang Widhi's Sthana who bestows Taksu (Manik Sakecap) in connection with the success of a job, especially in the field of art, so that every time you start an activity, especially in the arts, so that you can succeed quickly, you should pray and ask permission at the temple. Asta Gina's beads. This temple is not only believed by Krama Kintamani Village, but other villages also strongly believe. This is proven by the villages of Banyunggede, Peludu, Shrink Kelodan, if they want to kill Jero Gede in the form of Barong, they will mature at Manik Asta Gina Temple and Tenten Temple.
Kintamani for Mount Batur View Point
We can watch stunning natural scenery of Penelokan, a combination of Mount Batur and the expanse of black rock with Lake Batur and on a blue caldera. According to the tourists often called the world's most beautiful caldera. Because the number of tourists grew, Penelokan already has an adequate infrastructure facilities complete with lodging and restaurants. Location interesting addition in the Village Penelokan Terunyan. For there to be through the center of the village Kedisan then crossed the lake. Village Terunyan, we can see the ancient civilizations of Bali Bali aga. In this village, the people who have died simply placed under a tree. The corpses are not completely remove the smell. One of Bali most famous village, Kintamani, is located on the scenic regency of Bangli. The fresh air from the mountain combined with dizzy view is best enjoyed by cycling around the village or trekking. The dramatic landscape of the village centers around the volcanic caldera of ancient Mount Batur having deep crater lake, Bali largest, and bubbling hot springs. The village is also home to several temples. One of which is Pura Batur Kintamani by the rim of the crater which completes the already breathtaking natural view of Kintamani village.
Kintamani Penelekoan Village Tourist Attraction
When tourism started to develop in Bali around 1965 one tour package called "Barong dance and Kintamani tour " was the most popular day sightseeing. The highlight of the tour which is until now still exist are Bali artist's colonies, Tirta Empul Temple, and Batur Caldera. According to some senior tour guides who have been working in the industry for more than 2 decades some tourists from Europe and U.S.A regularly come to Bali, for more than 5 times since 1960s and every times they come they always repeat to see this Bali Tour package. It might be the real spirit of Balinese nature and culture are mixed here which can give various inspirations, probably from business of small handicrafts until 5 stars hotels or restaurants for those who saw this as an opportunity. This has been proved by the tremendous development of tourism facilities in Bali from 1980s to 1995. The writer believe very much that what is the value of this trip has been triggering other area of Bali to be known in tourism industry. Below is described shortly how these 3 areas had been attracting people from immemorial times.
Kintamani and Mount Batur Caldera
The inscription tells about the history of Kintamani and Mount Batur, where in the inscription it is mentioned about Mount Batur where Mount Batur is considered a sacred place. here are some inscriptions that tell about Mount Batur in Kintamani are with it's magnificent view of Batur caldera have been recorded on king's charter's as follows:
Inscription dated 911 AD, mention about the king envoys to pray at Trunyan village, the local people were asked to serve the envoys to prepare the meals and facilities during this religious trip. The people requested to his majesty to be exempted from certain taxes in lieu to the services rendered to the philgramage.
Inscription dated 911 AD, the regulation for village member between Abang village and Trunyan village was issued by the king to protect their interest.
Three inscriptions found at Kintamani dated 967 AD mentions a lodging ( pesangrahan ) at Air Mih, licensed by the king Tabanendra Dharmadewa. Here is mentioned also the influx or might be traffic of priests ( bhiksu ) that came to that area and wanted to settle. It was regulated that the new comers must not exceeding 10 families
Just around 1 km north to Kintamani have found various stone sculptures carved in 1011 AD by master sculptor " Mpu Bga", dedicated to the king and ancestor's spirits
Those are some inscriptions that tell about the relationship between Kintamani Village and Batur Temple, where Batur Temple from ancient times has been very purified and is often visited by residents. Kintamani village is a very old village and full of mystery and history, where the most important history is the history of the Batur temple which was once located under the slopes of Mount Batur and was destroyed by the eruption of Mount Batur and is now moved to the place of this Kintamani tourist attraction. , overlooking the mountain surface and a very beautiful view we can see here
What You Can Do at Kintamani Village
What can you do in Kintamani, besides visiting a very beautiful tourist destination where you can see the beauty of Mount Batur from this Kintamani village, here are many restaurants with views of Mount Batur, while enjoying lunch you can see the beauty of Mount Batur and the lake Batur, an extraordinary sensation to see the greatness and splendor of the Batur Temple which is sanctified by the local community. Apart from seeing Mount Batur, there are several things you can do in Kintamani Village which are no less interesting
Visiting Batur Temple in Kintamani, where this Kintamani Batur Temple is a temple dedicated to a god who resides on Mount Batur. There are several sources that mention the history of Batur is Lontar Kesmu god, Lontar USANA Bali and Lontar King Purana Batur. Batur Temple mentioned that already existed since the time of Kuturan Professor X is about a century until the beginning of XI century. Because the vast acreage and-pelinggih number is estimated that the temple of Pura Batur is Penyiwi kings who ruled in Bali, as well as a heaven Jagat. Pura Batur at the Goddess Danu is mentioned in Balinese USANA Lontar translated, is the story, happened in the month of Marga Sari (month-to-V) when Krishna Force (Tilem) Bethara Pasupati in India are transferring summit of Mount Meru is divided into two, held by the left and right hand and then brought to Bali is used as the Son he is sthana Bethara Putrajaya (Hyang Supreme Deity) and peaks that brought his left hand into Mount Batur as sthana Goddess Danuh, both that as formerly the island of Bali. Both mountain is a symbol and Pradana Purusa elements of Sang Hyang Widhi. Pura Batur is a Hindu cult place throughout Central Bali, Bali in particular, North and East plead in the field of safety rice field. Hence, in the revered saint who fell the Purnamaning to X (kedasa) all the people, especially in all kelian subak, come to Pura Batur to offer "Suwinih". So if there's disaster pests.
Doing the Mount Batur Sunrise Trekking Tour activity to see the beautiful view of Mount Batur with the sunrise. Where you will depart in the morning and must be at the location of the starting point of Mount Batur at 04.00 am, and trekking starts together and heads up, while the journey to the top of Mount Batur takes about 2 hours of travel with a very level track. easy, above you can see firsthand the beauty of Mount Batur and the caldera which is so beautiful. A very special moment where you spend the morning looking at the stunning view of Mount Batur, after that you go down again through the same road and you return to the hotel with a very impressive experience.
Visiting the Geopark Museum is a museum that presents information on national geoparks and global geoparks. The museum demonstration room is based on the concept of a geopark or earth park, consisting of geological, biological, and cultural diversity. Geological diversity is generally filled by rocks from the eruption of Mount Batur. Here you can see the history of Mount Batur which is very fascinating and can find out the process of the eruption of Mount Batur from year to year. Besides that, you can also see and know the process of the eruption, a very beautiful experience when you go to Kintamani village and know more about Mount Batur which is one of the popular tourist destinations in Kintamani.
Batur Geopark Museum
Location of Kintamani Bali
The location of Kintamani Village is very far where it is in a high area, if you are from Denpasar to get here it will take about 2 hours of travel, as for the trip you can take 3 road routes, where first you can go through Ubud village and continue straight up and pass. Tegalalang rice terrace which is very beautiful and famous. Second, you can go through Payangan village, where you will pass the Ayung Rafting company that is around the road, you go straight up to the top, until above you turn right and go straight. Third, you can pass through the village of Gianyar through Tirta Empul which is famous for holy water which is often used for cleansing, you continue straight and turn left when you reach the top. If you are from ubud it doesn't take long to get here, it only takes about 1 hour drive or even less if there is no traffic jam, if from ubud pass through the Tegalalang rice terrace road. If you are confused, you can open a google map to show the direction to reach this place, and if you don't want to bother driving, we Bali Tour help you by offering transportation at very cheap prices and of course the service we provide is very satisfying.
Tour to Kintamani Bali
It is a prove that Kintamani area is the oldest area to have been recorded in history of Bali. It was probably due to it's very inspiring natural scenery and magical view. One of famous Indonesian novelists Sutan Takdir Alisyahbana also built his lodging on the foot of Mount Batur, where he produced many litteraire creations in the form of romance or novels. If you want to see the view of Mount Batur and Lake Batur in the village of Kintamani, we from Bali Tours provide a tour package that goes there, namely the Ubud and Kintamani Tour will visit the beauty of ubud village and kintamani village in one day or Kintamani Tour will visit the beauty of Kintamani village and also other tourist objects at affordable prices and satisfying service. If you just want to see the Kintamani view, we also provide transportation rental services with a private car and an experienced driver