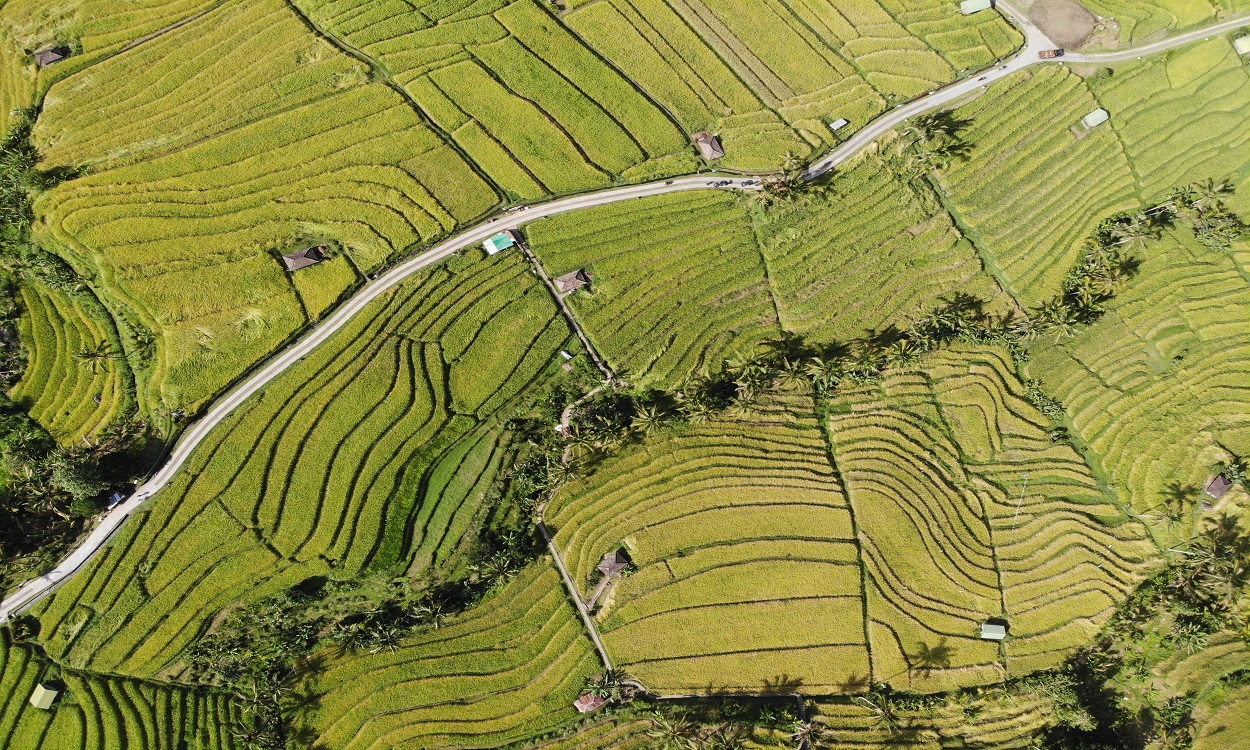 History Jatiluwih Rice Terrace
Jatiluwih is surrounded by cool atmosphere because it is located in the height of 700 meters above sea level. Besides its nature potency, Jatiluwih is also saving the cultural potency, especially history of the Petali Temple existence that is related to the power of Ida Dalem Waturenggong King in Keraton Gelgel (1460 - 1552). The distance from Denpasar to Jatiluwih is about 48 km and it is situated in upstate of Tabanan town (28 Km). The road to this place has been progressively improved so that motor vehicle can enter from east side through Pacung Village and go to Jatiluwih and also from the west side from Watukaru Temple pass to Jatiluwih. Jatiluwih is many visited by tourist from local and foreign countries who want to enjoy the cold atmosphere and beautiful panorama of rice terrace. Jatiluwih as a nature tourist destination in Bali which has been recognized since Dutch colonial build the Security Headquarter and until now the local residents conceives with the Dutch Tangs. Indonesian government has assigned the Jatiluwih to be a Tourist Destination Village because of this potency.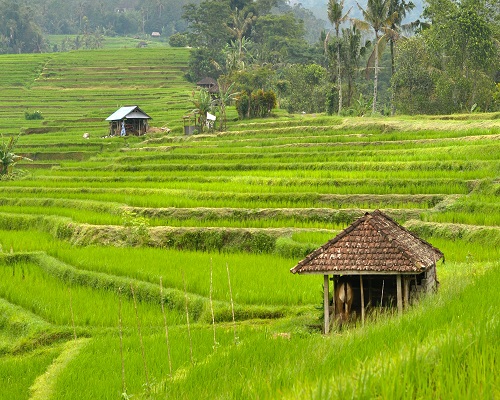 Temple at Jatiluwih Village
Jatiluwih village also has a temple dedicated to Dewi Sri who is the goddess of fertility, where every certain day there is a big ceremony to worship Dewi Sri who has taken care of the rice fields so that the rice fields can be harvested and produce healthy and quality rice. Jatiluwih also keep the unique religious ceremony attraction which is famous know as Patirtaan in Petali Temple on Wednesday Kliwon Ugu (Based on Balinese Calendar). The local residents believe that Petali Temple is a worship center of The Hyang Widhi Wasa (the God) as agriculture power. Beside of Petali Temple , there is also Pucak Rsi Temple is located in this area. As a tourist object, Jatiluwih provides the public facilities like parking area, toilet, resting bale and Wantilan for tourist who is enjoying the beautiful panorama. Some restaurants have been built to serve the food and beverage.
What You Can See at Jatiluwih Village
From Jatiluwih Rice Terrace tourists can also visit the hot spring water of angsri, because the distance from the hot spring angsri Jatiluwih so is close, In addition to Angsri hot water, you can also visit several coffee plantations that are here, which have various kinds of coffee that you can try and also the famous Luwak coffee, which is also found at the coffee plantation which is located close to this Jatiluwih rice terrace. Although the location of this resort is very isolated, with roads winding, but many area attractions that we can enjoy there. For the journey to this region also is not boring, because we travel along the beautiful river views along the way in which vast stretches of rice field, and the shady trees that lined all the way to Jatiluwih. If you want to visit tourist areas filled with green rice fields stretching to the beauty and it's tradition so Jatiluwih are the areas you should visit, I am sure that you'll feel amazed at the scenery in front of you.

How Get to Jatiluwih Rice Terrace
If you want to visit this beautiful Jatiluwih rice terrace, you can go to Jatiluwih Village in Tabanan Regency, and if you don't want to bother driving yourself, we provide transportation services that you can use to get to Jatiluwih Rice Terrace and of course with very affordable prices and accompanied by a friendly and experienced driver will make this trip even more enjoyable or you can have tour packages that are suitable, besides visiting the Jatiluwih rice terrace and you can also enjoy the sunset at Tanah Lot with a very stunning view, while also visiting tourist objects that are no less beautiful, you can see the package here, Bali Jatiluwih and Tanah Lot Tour, with cheap and affordable prices and also satisfying service, guaranteed you will bring a very impressive experience in visiting this very beautiful and charming rice field, enjoy taking pictures here with a rice field background that is so beautiful and very instagramable