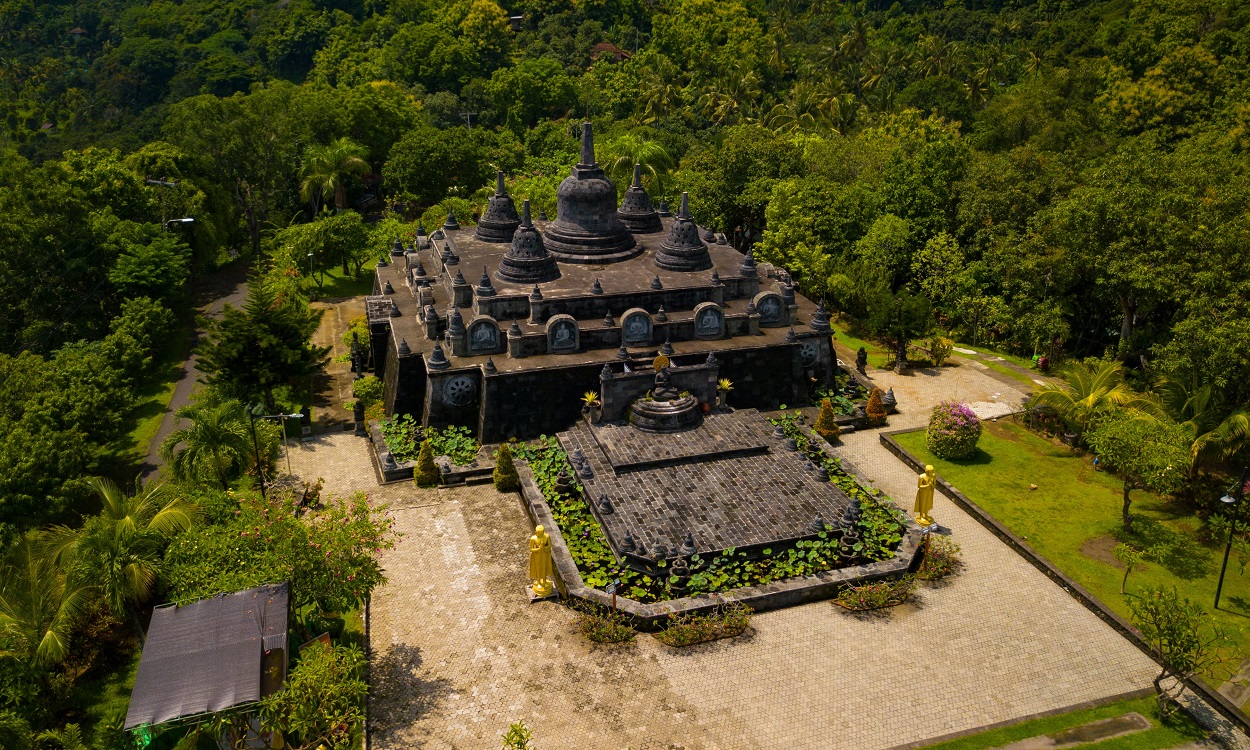 Brahmavihara - Arama is the largest Buddhist monastery in Bali and this monastery is better known as the Banjar Buddhist Temple. Brahmavihara-Arama is located in the village of Banjar Tegeha which includes the Banjar sub-district, Buleleng regency and is located about 22 km west of Singaraja or 11 km from the tourist area of ​​Lovina. From the capital city of Denpasar to this monastery, it takes approximately two hours or about 100 km, via the Denpasar-Bedugul-Singaraja highway.
This temple is located in the hilly area of ​​Tegeha village with a quiet and calm atmosphere and can see a direct view of Lovina beach. In addition, not far from this monastery there are also tourist attractions Banjar Hot Springs. With the existence of these two attractions, the monastery is increasingly known and frequently visited by tourists, both foreign and domestic. Brahmavihara-Arama began to be established around 1969 and was completed in 1970. Whereas in 1973 it was only inaugurated as a Buddhist monastery. Previously there was a monastery located in the Banjar Hot Spring, which at that time had very limited 25 followers. The goal is diverse. Starting from the desire to meditate or just stop by. Especially because this place is close to Lovina Beach. Brahmavihara-Arama Buleleng is a historic temple on the Island of the Gods of Bali
Brahmavihara Arama consists of three words, namely: Brahma, Vihara and Arama. Brahma means great, very noble, commendable, noble. Vihara means a way of life, and Arama means place. It is often found that the word Vihara is given the same meaning as Arama, which is a place to live. From the meaning of the word, the meaning of Brahmavihara Arama is a place to train yourself, forge noble / commendable behavior which includes Metta, Karuna, Mudita and Upekkha. Giving the name Brahma Vihara by the late Bhante Girirakkhito as the Founding Father is very much in line with the goal of his establishment.
Noble behavior which includes Metta, Karuna, Mudita and Upekkha. This can be explored, internalized, realized and practiced through the Vipassana Bhavana meditation path, because Brahma Vihara can also be used as an object of meditation. For this reason, Brahmavihara Arama was proclaimed by Bhante Girirakkhito as a place of meditation. We realize and believe that humans consist of Rupa and Names, namely body / body and mind, which are also referred to as Panca khanda. Panca khandha are five groups of life which consist of physical body / body (image), feeling, perception, mind and consciousness (Name) Panca khandha this is called life and life or commonly called human.
Located in the highlands so that the natural environment is still very beautiful, cool, quiet and calm. The view seen in the distance is Lovina Beach with blue sea water. Because it is quiet and very comfortable, the location of Brahmavihara-Arama Buleleng is often used as a place of meditation. Especially for those who want to find a place to retreat and away from the hustle of the city.
What is unique, although it is a place of worship for Buddhism, the building of Brahmavihara-Arama Buleleng does not leave the characteristics of Balinese architecture. Also built a mini Borobudur at the location of the monastery which is often used as objects of photographs of visitors to the monastery.