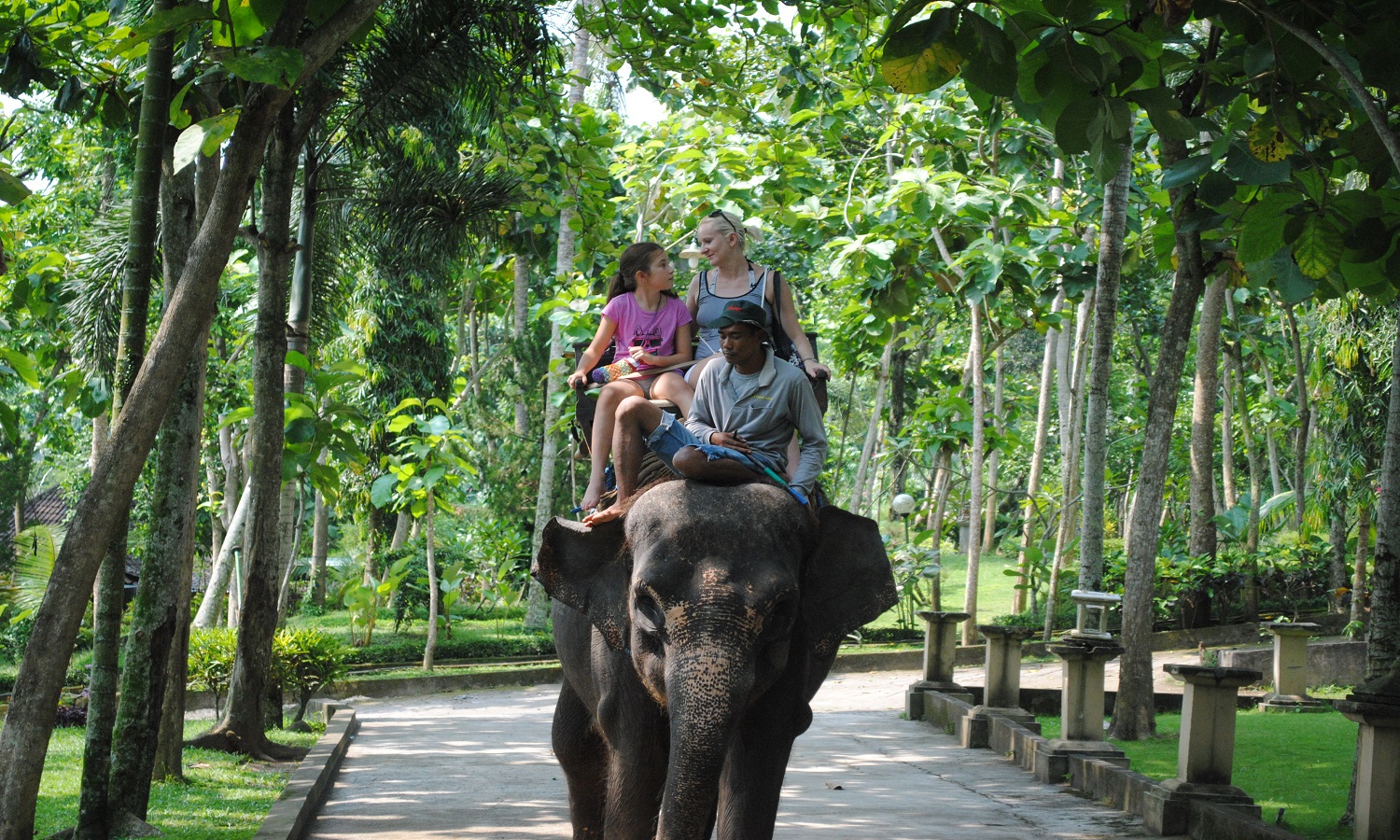 Bakas Elephant Ride Tour is a Bali Elephant Ride Tour package and one of the Elephant Ride in the village of Bakas klungkung regency. it is located at the Starting Point of Bakas Levi Rafting, When on vacation on the island of Bali and and confused about what activities to do, then this elephant riding adventure is suitable for you, riding an elephant on a wooden chair placed on an elephant and seeing the scenery around slowly following the elephant's path guided by an elephant guide who will explain what we saw along the way, a very true sensation will always be remembered in your memories. Enjoy taking pictures with elephants here and make memories with cute elephants during your holiday in Bali. Is a prime tourist destination in Bali that enable the package to be combined such as Bali Elephant Ride and Kintamani Tour, Bali Elephant Ride and Tanah Lot Tour and other tour at Bali Combination Tour to other places of interest. In addition, Bakas exotic and natural scenery while relaxing on a teak chair placed at an elephant's back.
Elephant Ride at Bakas Village
Bali offers not just various customs but also various adventures parks. Many exciting amusements are available in Bali, with something new opening all time. The number of offshore and inland attraction are on the rise because many tourists want them. Adventure Activities in Bali by Bakas adventure offer you to join Bali Bakas Elephant Ride Tour program. Bakas is a village located in the Klungkung sub-district, here besides the very beautiful scenery there are also very interesting activities here, where there is an adventure to ride an elephant and get around the village located here. Here it is still sustainable where there are still many trees that are still natural and lush, and it is very suitable as a place for an elephant ride in this place, as for the duration of riding an elephant here there is a duration of 15 and 30 minutes where the track only goes around in the forest in Bakas Village. this and then return to the elephant park and when returning will pass the water pool and see the elephants playing in the water here and proceed to the finish point. It's an incredibly beautiful sensation where riding the largest animal on the island of Bali accompanied by a friendly and professional elephant guide will guide the journey of this elephant adventure to make it memorable for you.
Bakas Elephant Ride Tour Program
When talking about elephant riding tours, it will certainly be something very impressive, where the experience of seeing the view of Bakas village from the top of an elephant accompanied by an experienced elephant guide will always make this elephant tour very memorable in your holiday on the island of Bali. Experience Bali most exciting and spectacular actions of Bali Elephant Ride. Get Fun in and choose our Bakas Elephant Ride Tour Program such as Short Ride is 15 and 30 Minutes Elephant Ride with asisst by professional Elephant Guide will make this trip more enjoyable. All our services are with international standard safety, equipments and guides applied. Covered also with insurance. So what are you waiting for, contact us and order this elephant ride to give a very meaningful impression during your holiday in Bali bali