Aling - Aling Waterfall is a waterfall tourist attraction located in Sambangan, Sukasada, Buleleng, Bali. In this Bali Interest Place, we will explain in detail about the Aling - aling waterfall. Like most waterfalls in the highlands, so is this waterfall which is located in the highlands, where in the highlands the air is very cool and also produces very clear and rather cold water. This tourist attraction is worth a visit if you visit the northern area of ​​the island of Bali, the northern area of ​​the island of Bali is indeed quite famous for its many beautiful waterfall tours.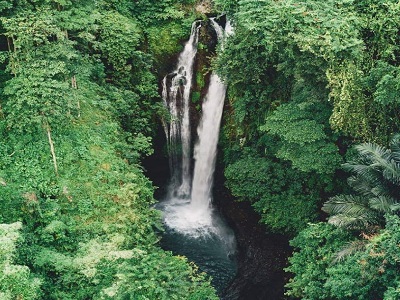 Aling - Aling Waterfall is very beautiful, it's no wonder that many foreign and domestic tourists flock here to appreciate the exotic natural works and this place is also used as a photo object uploaded on Instagram. The water discharge in Aling - Aling waterfall is very heavy, causing the sound of gurgling water that seems to call you to enjoy the work of nature, with green plants around the waterfall making a very fantastic view that seems to make you feel life in nature and will build your soul your nature lover. With fantastic natural beauty it will make you feel at home for a long time in this waterfall.
The location of Aling - Aling waterfall is located some distance from the settlement, where you will go through a path to reach this location, it is hoped that your condition is good, because the terrain to be traversed is quite far. But even though the location is a bit far, while you are walking along the path, you can also enjoy the beautiful scenery around, where the left and right of the road are still natural and overgrown with shady trees as if to amaze you, very different from the conditions in urban areas that are a lot of pollution and noise. , but here the atmosphere is very calm and quiet, perfect for those of you who want to get rid of boredom in the city.
Your efforts in going through the path will pay off after reaching the location, where you will see a very high waterfall, which is about 35 meters high with heavy water discharge. The water pool in this waterfall is about 4 meters deep, and you are allowed to swim, but please bring a towel, because here there are no towel facilities and also be careful when swimming because the pool is deep enough and the water discharge is very heavy. The existence of this waterfall will further beautify natural tourism on the island of Bali, although this waterfall is not as famous as the Git Git waterfall, but it is suitable to be one of your list of tourist destinations on the island of Bali.