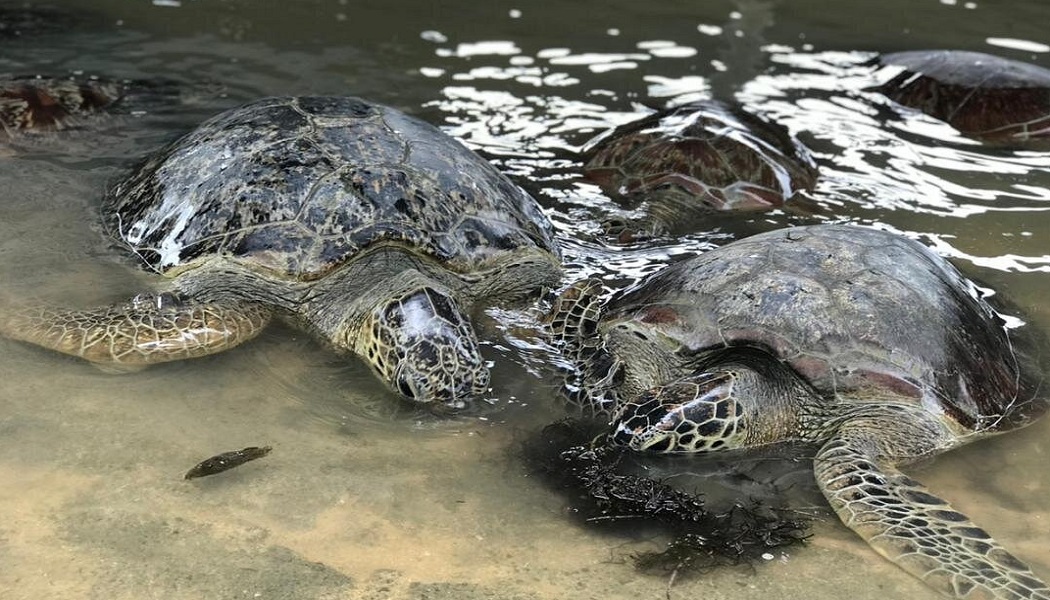 Bali Turtle Islands Tour tour is an exciting Bali Water Sports Tour package to enjoy visiting a small island covered by white sand with turtle conservation located in Tanjung Benoa, South part of Bali. is a Great adventure Bali Water Sports activity by visiting Turtle Islands. Visiting turtle island is always combined with glass bottom boat activities, because to get to turtle island you will use a glass bottom boat, on the way on a boat with transparent glass below, you can see small fish swimming. A very suitable place for your child to learn about cute animal turtles that are adorable and protected because they are vulnerable to extinction. Turtle islands are small islands that serve as a place for turtle protection, where in Indonesia turtles are very protected animals, to preserve these turtles then made a conservation place where there are turtles for breeding and when the baby turtles are big then will be released back into the sea. Turtle Island is very suitable to visit for children, where they will be able to see and know the funny behavior of this turtle.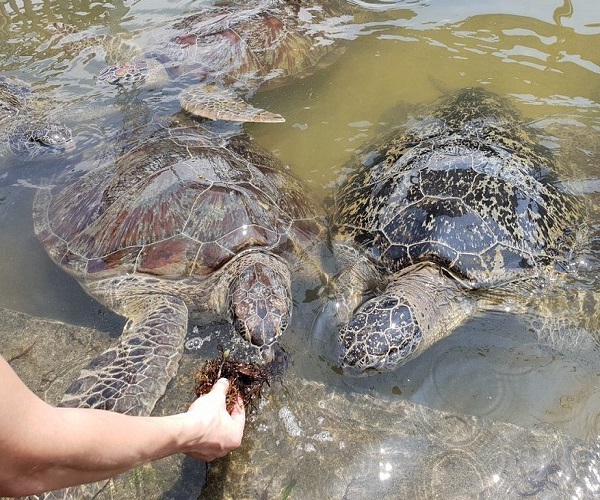 Turtle Islands Conservation
What you can see on turtle island is the conservation of this turtle, where you can see the broodstock of the turtles being cared for here, some of these turtles come from the catch of fishermen who were brought here, from illegal sales and brought here. There is also a turtle breeding place here, so every time a turtle lays eggs and hatches, it will be put in a shelter first, after it feels ready to be released, then the chicks are released into the ocean, and if you are lucky and during your visit, the turtle releases, you can participate to help maintain this endangered animal. This conservation area was created to protect turtles from the threat of extinction and your support is very helpful in the development of turtle sustainability, visiting it has made a very significant contribution to the life of this turtle.
How Get to Turtle Islands
Turtle islands are located in Tanjung Benoa and are located on a small island, here to go to a small island you need a boat to get there, and the boat used is a boat that is often used in Bali Glass Bottom Boat activities, while traveling by boat takes about 10 minutes if you go straight to to go there, but you can combine it with a glass bottom boat, besides seeing small fish you can also see turtles in this conservation. Here we provide a package to see the beauty and uniqueness of this turtle island, here there are many turtles that are preserved and maintained so that their survival is maintained. So if you want to visit turtle islands, then come to Tanjung Benoa and you start your journey by boat to turtle island, if you are confused, you can take this turtle island package and we will take you to turtle island including hotel pick up and drop off. boat to turtle island
What can you see in Turtle Islands
In addition to the turtles that are conserved here, you can see other animals that are no less interesting, such as a very large iguana that is placed here as entertainment for children who visit the island of turtle, you can take pictures with iguanas here, see a python whose size is not too big. big and also as entertainment for those of you who visit turtle island and you can interact with python animals here, see very beautiful parrots with very stunning colors and also see civet animals where the mongoose is famous for eating coffee beans and excrement that is still there coffee beans are used as an ingredient of civet coffee. A very complete place if you want to give your child learning about endangered animals and interact directly with these animals. An extraordinary sensation for those of you who want to visit the turtle island during your vacation on the island of Bali
Bali Turtle Islands Tour Program
After arriving at water sports, you will be direction to the boat, and then ride the boat get to turtle islands using glass bottom boat, while on the way to turtle islands, you can see amazing small fish from the boat, which is in boat have transparent glass. Arrive at turtle islands you will explore the conservation, is great experience specialy for children will increase the knowledge. The sensation of a very interesting experience in your life, where you can see this rare animal that is almost extinct. In captivity you can feed the turtles and if you are lucky and on that day there is the release of baby turtles, then you can participate in releasing the baby turtles into the sea. In addition to seeing turtles, you can feed turtles, is an activity that is very interesting, especially for children who are seeing turtles for the first time, maybe this is an experience that will be remembered for the rest of their lives. and will no longer be curious about the shape and nature of the turtle. If finish explore the turtle conservation, you will ride the same boat get to beach, arribe at beach we will escort you back to your hotel with bring an awesome memory during this Bali Turtle Islands Tour program.
Visit Turtle Island While on Vacation in Bali
Turtle Islands activities that might be a complement if you are doing water sports activities, because only in water sports places provide a program to go to turtle island, besides the location is very close and here there are also many boats that are often used as water sports activities. So don't hesitate anymore, by visiting turtle island you have also participated in this turtle conservation. Holidays on the island of Bali certainly don't miss out on very interesting water activities, and if you do water activities, don't forget to visit this turtle island, and with your visit it will be very helpful for turtle conservation to preserve the habitat of turtles that are almost extinct. We from Bali Tours will always help you if you want to travel to turtle island, of course with very cheap prices and very satisfying service.