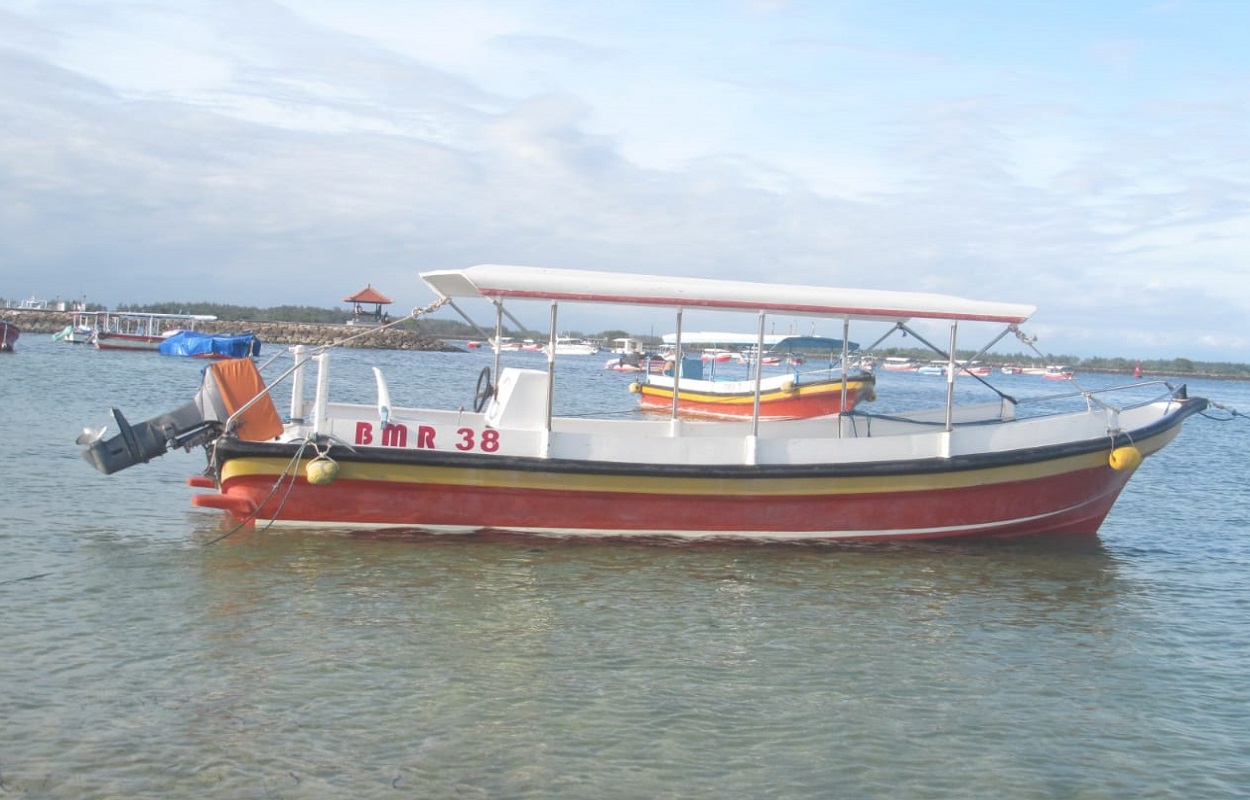 Bali Glass Bottom Boat Tour is a Bali Water Sports Tour package in Bali islands. A glass bottom boat is a boat with sections of glass, or other suitable transparent material, below the waterline allowing passengers to observe the underwater environment from within the boat. The view through the glass bottom is better than simply looking into the water from above, because one does not have to look through optically erratic surface disturbances. The effect is similar to that achieved by a diving mask, while the passengers are able to stay dry, out of the water. Glass bottom boat is a game of water activities, where we will ride a boat that is designed with transparent glass underneath, so we can see what is under the water. This activity is very interesting, especially for children who want to see small fish from the boat without getting wet clothes. Enjoy seeing underwater life through the transparent glass on the boat. It's very good for children to travel by boat and see the beauty of the underwater world from the boat without having to go down to the sea to see it
Location of Glass Bottom Boat Tour
The location of the glass bottom boat is located in Tanjung Benoa, Nusa Dua village. Precisely where the water sports are located, because the glass bottom boat is one of the most fun water sports activities outside of playing in the water and making the body wet. This activity can be done by all people from infants to adults, because it does not require special requirements to ride this glass bottom boat. If you are on vacation in Bali and want to go here, you can contact us Bali Tour and we will prepare everything from transportation to get here and order a boat for you to use during this glass bottom boat, while the duration of this activity is 60 minutes around the beach tanjung benoa
Glass Bottom Boat for All Ages
This glass bottom boat is a water sports game that is specifically for all ages, where you can ride a boat with your family and see the charm around the beach which is very impressive. However, The glass bottom boat activity is often combined with visiting the Bali Turtle Islands, where while you see small fish from the boat through the transparent glass, you can also visit the turtle island which is a conservation place for this endangered turtle. The glass bottom boat can accommodate up to 10 people, if more than 10 people will use another boat, for your safety on the boat. The sensation of riding a boat is most liked by children who are on a boat for the first time, maybe they will feel scared at first, but after a long time it will be very fun and will probably make your child want to do it again. Good learning for your child's mental in this boat
Glass Bottom Boat Design
If you hear someone talk or read about glass bottom boats in tanjung benoa beach for watersports activities, you must think that all boats are made of glass, here you are wrong, where the glass bottom boat designed here is very different and all the boats used in Tanjung Benoa Beach for glass bottom boat water sports activities are all the same. So don't be fooled by pictures that show a difference with full transparent glass. Here the boat is made of fiber which in the middle there is a glass measuring about 1 meter with a width of about 35 centimeters for you to see the beautiful underwater scenery. It is equipped with a roof, so you will not overheat in this glass bottom boat activity, and if you want to go to turtle island, then this boat is also used, and if you do snorkeling activities here, this boat is also used, then you could say the boat glass bottom boat is multi-functional and the design is not completely glass bottom boat.
Glass Bottom Boat Program
First we will pick you up at the hotel where you are staying and go straight to tanjung benoa at the water sports place, here we will get ready to go to the boat, and you get on the boat and start this adventure. First we will walk along the beach of Tanjung Benoa at the snorkeling spot, and here we will see the beauty of the glass rocks on the boat and see very beautiful small fish swimming here and there beautifully. Besides that, you can see the beauty of Tanjung Benoa beach from the boat and see the clear water with lots of marine life that live here, as for the duration of this glass bottom boat and turtle islands is about 60 minutes along the beautiful beaches of Tanjung Benoa. After walking around, you will return to the beach and get ready to go to the hotel by using a private car. This will make the trip even more enjoyable on the Glass Bottom Boat Bali .
Enjoy Glass Bottom Boat during Vacation in Bali
If you are on vacation in Bali and want to play water sports, don't forget to do a glass bottom boat. Enjoy the beautiful beach atmosphere from the boat and see the underwater life from the dazzling transparent glass from the boat. Glass bottom boat is very suitable to be done with a group, because it will add a very impressive atmosphere, enjoy seeing such a variety of biological life, if the water is clear, you can clearly see the small fish in the coral reefs. It's a very nice feeling to be able to see colorful fish swimming under the sea. Glass bottom boat price we offer is cheap prices and very satisfying service, it will complete your holiday on the island of Bali. We from Bali Tour offer you the Bali Glass Bottom Boat Tour program for you to feel the sensation of riding a transparent boat with including pick-up and drop-off at the hotel and boat reservations for this activity, and of course with very friendly prices and very satisfying services.