Leke Leke Waterfall is Bali Places of Interest regarding waterfall attractions located in Antapan Village, Baturiti District, Tabanan Regency. This waterfall tourist attraction is very popular among tourists because it offers incomparable beautiful views, many tourists flock to this place to relieve fatigue from stress in urban areas or just want to enjoy a different sensation in their vacation on the island of Bali. With a green atmosphere with trees, the air that is so fresh and with clear water in the waterfall, making the Leke Leke waterfall tourist attraction in demand by tourists, it is located in a highland area with a location that is somewhat hidden because it is in remote areas and to reach the water. plunging is required via a winding path with unspoiled views around the road.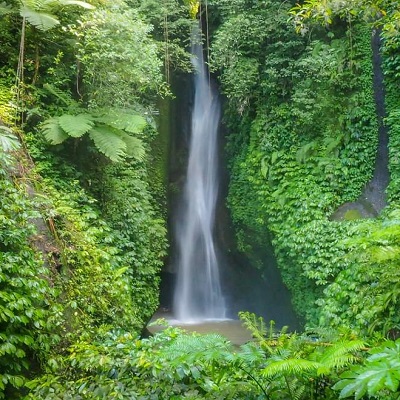 In contrast to other waterfall attractions, to reach the location it takes a very long journey, in contrast to the Leke Leke waterfall object, where you are not that far to reach the location and access to the waterfall is very good and safe, from the object entrance ticket counter. leke leke waterfall tour takes about 500 meters or about 20 minutes on foot to reach the location via a path and over a river where there is a bridge made of bamboo trees. While going through the path you can enjoy the natural scenery that is still very natural in this village, with fresh and cold air that will add to your passion in this natural tourism. The fresh air typical of the mountains will accompany you all the way to the waterfall location. Visitors will be spoiled with a green view, because this area is a community-owned plantation area.
After a tiring journey through an area that is still green and natural, then you will arrive at the Leke Leke waterfall tourist attraction, your efforts in exploring the path will pay off after seeing the view of the waterfall with green plants and the sound of gurgling water falling into a pool of water as if calling you to accelerate the steps to reach this waterfall. The height of the Leke Leke waterfall is 32 meters high, with water sources from springs in the mountains, where the water is still clear and pollution-free. On the cliffs of the waterfall there are green tropical plants that seem to add to the prestige of this waterfall attraction. Under the waterfall there is a water pool as a reservoir for water that falls from above, while the pool is not that deep, so you can swim in this pool to enjoy the sensation of natural mountain water with beautiful surrounding scenery.
Swimming in the leke-leke waterfall is a matchless sensation to complete your vacation on the island of Bali. There is already a rest room here for those of you who want to change clothes after swimming. The water pool in this waterfall can accommodate many people, so don't hesitate if you don't get a place later, enjoy the sensation of cold water by bathing under the Leke Leke waterfall. For those of you who don't like swimming, you can make this place as an object for selfies, because it offers a very impressive natural view. With fresh air in this waterfall it will make blood circulation smooth and also be able to relieve fatigue in the head with the hustle and bustle of urban pollution. Forget about demanding jobs and make you stressful, visit the Leke Leke waterfall attraction which will make you feel refreshed with fresh air.
Complete your vacation by visiting the leke-leke waterfall attraction, we from Bali Tour are willing to take you to visit this attraction, with private transportation with an experienced driver will make the trip more enjoyable, and of course the price we offer is very friendly and with great service. which is sure to satisfy you. If you visit this tourist attraction, we recommend using comfortable footwear because it will go through a dirt path and over a bamboo bridge. For those of you who are very lovers of waterfall tourism, this Leke Leke waterfall tourist attraction is suitable to be included in your list, as a complement that you have explored this very beautiful and phenomenal waterfall tourist attraction.