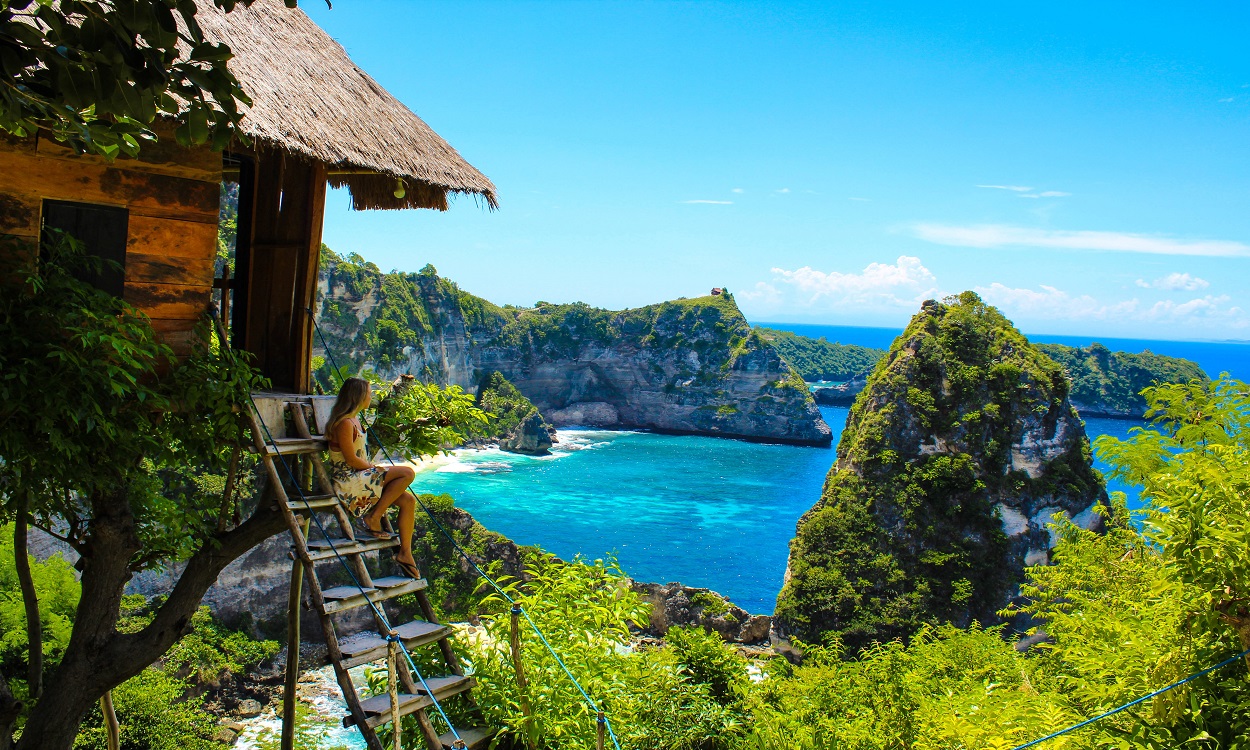 Tree House Molenteng is located adjacent to diamond beach in Nusa Penida, this tourist attraction is very interesting for tourists because of the tree house you will be able to enjoy the beautiful views of the cliffs and the beach. This tree house building is actually very simple. Stand on a tree that has partially cut down the trunk so the house can stand upright. To reach the top of the house, wooden bridges and stairs have been installed to help rise. This Tree House is at an altitude facing directly to Atuh Beach. This location makes the Batu Molenteng Tree House an attraction for tourists who want to visit.
If you visit Tree House Molenteng, here's what you need to know
Location Tree House Molenteng
To get to the location of the Batu Molenteng Atuh Area Tree House, it takes a little extra effort. Visitors must walk down a cliff about 50 meters high. To climb these stairs must be very careful because the terrain is very rocky. To help the visitor's journey, a rope has been prepared that can be made to prevent falling. This steep cliff trip is taken about 15 minutes drive from the parking location. The location of this tree house is a bit extreme and challenging, which is located on a tree that is not too big but has many branches and the trees are cut down, leaving little leaves. There is a neatly arranged wooden staircase and mine rope as a handle to make it easier for visitors to enter the tree house.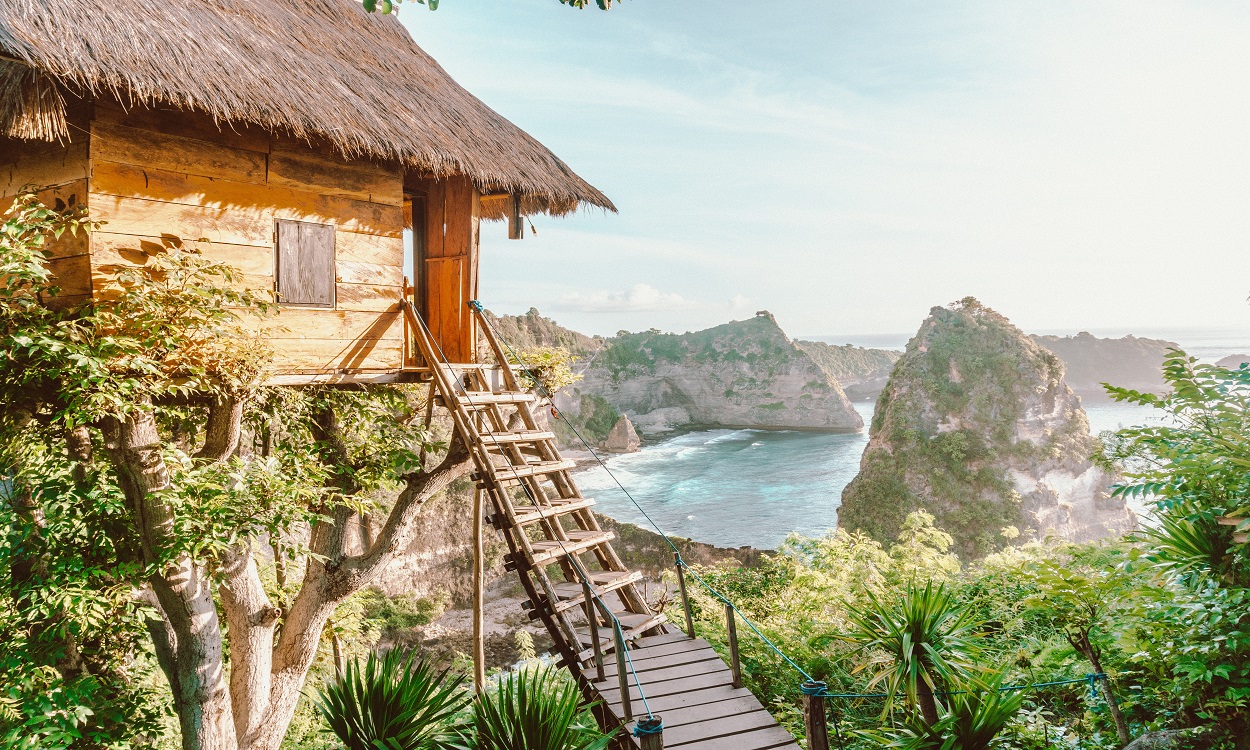 Tree House Molenteng Instagramable
It's not a building that makes this Molenteng Tree House special, But the scenery and natural beauty that can be witnessed from the top of the tree house. The view that is seen is the expanse of the sea which is very charming. While sitting on the balcony, the view of Atuh Beach can be seen perfectly. In addition to spending a wonderful night at the top of a steep cliff, visitors who come to stay certainly cannot miss the moment when the sun rises. Because when the sunrise is the best view that can be seen with amazement. Taking selfies for Instagram on tree houses is very popular right now, make photos very instagramable. Likewise, what was tried was given by the Molenteng Tree House. Taking a cool spot at Atuh Beach from a height into a photo on your Instagram becomes more interesting.
Tree House Molenteng with Thousands Islands View
If you visit the eastern area of ​​​​nusa penida, this tourist attraction should not be missed because it is very Instagram for you to use as a photo background for you to make memories during your vacation on the island of Bali. This is really very suitable as a tourist attraction that is instagrammable, with a background of rocks and the sea which is very enchantingly beautiful it will make every eye that looks at it be amazed by the beautiful work of nature. Usually, the Molenteng tree house tourism site is magnified with the Thousands Islands View Point, which is located below the Molenteng tree house, just walk little bit and you will see the thousand islands view point, if you visit here you can go down at the Thousands Islands view point to see the view of the coral reefs lined up in the ocean so the local people call it as Thousands islands view point
Tour Package to Tree House Molenteng
As you know, to visit the island of Nusa Penida you need sea transportation, which uses a fast boat and the port departs from Sanur. Here we make it easy for those of you who want to plan to travel to this Molenteng tree house to see the uniqueness and beauty of the natural charm on offer. From the shuttle from the hotel to the port, return fast boat tickets, transportation for tours in Nusa Penida and lunch we summarized into one Bali East Nusa Penida Tour package, here besides the Tree house you can also visit Diamond beach which is famous for its beautiful beaches and tourist attractions. another that is no less interesting and of course the price is very friendly. And if you want to combine tourist attractions in the east and west in one day, maybe you can take this package Bali West and East Nusa Penida Tour, where the objects that are there have been selected from the best and the most popular to visit or to visit. Photographed as a memory on Instagram. Enjoy visiting this very beautiful island of Nusa Penida.