Bali Soka beach has been known since long ago, as it is passed by travelers during their travel from Denpasar-Gilimanuk or vice versa. The site has a very beautiful scenery. The west part bounded by hills which is a part of Mount Batukaru in the north. While in the south is Indian ocean where Banyuwangi in Java is faintly visible from Soka. Vast rice fields and lush coconut groves enhance the beautiful scenery. Moreover, later when the sun is about to set, the view on top of Pura Luhur Serijong is comparable to the view in Tanah Lot. The view of the beach is very beautiful, a very impressive experience visiting a very famous beach in the Tabanan area with its very tempting black sand and very suitable as a place to swim and enjoy the sunset here, an incomparable view will come to you in the afternoon day
If you visit Soka Beach , here's what you need to know
Location of Soka Beach
The Bali Soka Beach is located in the western area of ​​​​the island of Bali, with all its natural beauty making this beach one of the beaches worth visiting if you visit the western area of ​​​​the island of Bali. Located in Selemadeg District, 45 kilometers from Denpasar and 84 kilometers from Gilimanuk, along the Java-Bali main road. No wonder countless vehicle passes the area everyday. If you drive from Kuta or Seminyak it will take about 2.5 hours of travel, with the help of Google Maps you will easily find the location of this very beautiful Soka beach. If you are confused, you can use our services Bali Car Charter to get here, with low prices and very satisfying service will make the trip to Soka beach very enjoyable. We from Bali Tour always provide satisfactory service to customers by providing an experienced driver and a very comfortable car will make the trip to this soka beach even more enjoyable, so what are you waiting for, contact us and see the beauty and uniqueness of this soka beach
History of Soka Beach
Regarding the history of Soka Beach, until now we don't know for sure about the history of Soka Beach, and also the origin of the name Soka Beach. This beach has always been known by tourists and local residents because it is located on a very strategic road, on the main road leading to the Gilimanuk area. So many tourists stop here for a moment to enjoy the view of the expanse of the sea which is so beautiful with its black sand which is very tempting. The scenery around is also very nice so it will make you feel at home to linger on this soka beach. A beach tourism destination that is so exotic and most tourists prefer to see the sunset view from this beautiful and enchanting Soka beach.
Myth Kebo Iwa at Soka Beach
There is a legend that is very unique and circulating among the Balinese people, where once upon a time there was a Balinese knight named Kebo Iwa, who was known to be very powerful so that he was respected by the kings of the islands of Bali and Java. Where long ago Kebo Iwa lived in this soka beach area and made the rocks on soka beach as a place to cook food using rare stones made as kitchens and other rocks made as food pots. Where you can see these pots and pots on this Soka beach, located on the coast where there is a 3-meter-sized rock surrounded by sand and sea water. As for the location of the kitchen in the west, which is a natural rock measuring 1 x 20 meters which looks like a traditional Balinese kitchen room. This is a legend circulating in the community about the life of Kebo Iwa on Soka Beach in ancient times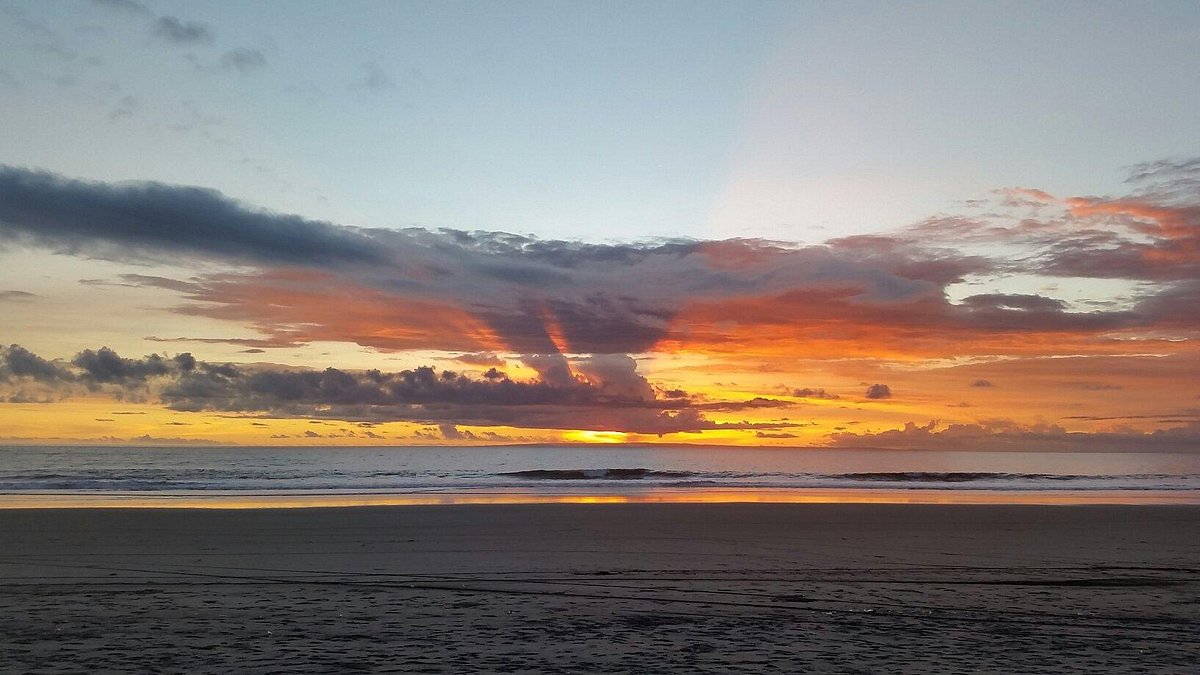 The Uniqueness of Soka Beach
The tourist destination of Soka Beach has its own uniqueness from other beach tourism destinations on the island of Bali, because of its uniqueness, Bali Soka Beach is one of the must-visit beach destinations if you are traveling to the western area of ​​​​​​​the island of Bali. With all the beauty of the beach on offer and the uniqueness of the surroundings add to the value of the beauty of Soka beach. A very beautiful and enjoyable experience in spending a holiday on the island of Bali by visiting the soka beach in this tabanan area
Black Sand: Soka beach is not like other beaches that have white sand, here the beach sand is very black, and it is very rare to find black sand in Bali, some beaches with black sand are found in eastern Bali. And in the southern area of ​​Bali, most of the beaches are white sand, and on this Soka beach the sand is black which will add to its beauty and uniqueness.
Clear Water: Soka beach has very clear beach water, perfect for those of you who want to spend time swimming at this soka beach. a very beautiful moment by bathing on the beach soka. but for snorkeling tours here there are not so many even though the water is very clear. If you happen to pass in the west area you can stop here and swim here
Sunset: You can enjoy the view of the sunset here, as for the scenery offered is very beautiful, where the position of the sun is setting in the west, so we can clearly see the seconds of the sun's descent which gives a very beautiful color, for For those of you who really like watching sunset activities, you can visit Soka Beach in the afternoon
Bulung Daya Cave: On the cliffs of Soka Beach, to the east, there is something called Bulung Daya, which is unique in this cave as a nest of thousands of swallow birds so you can see swallowbirds flying here and there in this cave, a very unique sight. , where the swallow birds usually live in high areas, but here they live near the soka beach
Fishing Spot: Soka beach besides the beauty of the beach which is still very natural, here is also used as a fishing spot, where in the morning you can see many fishermen who go inside to fish. If you like fishing you can come here and rent a fishing boat here to go to the middle of the beach to enjoy the sensation of pulling fish here
Soka Beach Not Crowded
In addition to its uniqueness, it turns out that Soka Beach is not so crowded with visitors and is still quiet unlike other beaches in Kuta Beach, Dreamland Beach and others which are very crowded. Here the beach is still quiet and very natural, even though this beach has many unique things that you can see here with clear water and black sand that is so enchanting. Due to the location far from the center of tourism, this place is quiet visited, as for tourists who come here only tourists who happen to pass by in this area and stop and also tourists who really want to visit Soka beach to see its natural beauty. For those of you who want to travel to the beach but don't want a crowded beach, you can go to this soka beach, here it is not so crowded so you can freely walk around this soka beach and see its natural beauty and uniqueness that is not inferior to other beaches in the area of Bali island
Facilities at Soka Beach
The facilities at Soka Beach are quite complete, where there is a large parking lot available. There are also few places for visitors to eat, drink, and shop for local snacks while resting before continuing departing on their journey. On religious holidays and full moon (Purnama), the beach is crowded with visitors and Hindu followers who are conducting religious ceremonies. A very supportive facility, where tourists who visit here don't have to worry about parking lots, stalls selling food and resting places, because everything is available here. If by chance you are traveling to the western area of ​​​​the island of Bali, you can stop for a moment at this soka beach just to see the uniqueness of the beach with its black sand and with water so clear that it is perfect for swimming.