Diamond Beach is located in Banjar Pelilit, Panjungutan Village, Nusa Penida Islands, the location is close to the Atuh Beach , while this beach is as beautiful as the beach where it is surrounded by large cliffs and some coral reefs on the beach that make the scenery amazing, many domestic and foreign tourists visit this place to enjoy the beautiful views of the beach or just swim on the beach. To go to the beach steps are taken down to the bottom, not suitable for people with asthma or pregnant people.
If you visit diamond beach, here's what you need to know
Diamond Beach Tourist Attraction in East Nusa Penida
Diamond beach is in the eastern part of the island and just been opened to the public. Over time Diamond Beach has become very popular among foreign and domestic tourists, and some call it the paradise beach of Nusa Penida, because the natural beauty it offers is very pleasing to the eye of the beholder, with white sand, coral rocks and coconut trees on the beach, which is very pleasing to the eye. complete as the paradise beach of nusa penida.. Actually, the beach has been around for a long time because the location is still in one Thousands Islands Area which has other destinations such as the Tree House of Molenteng and Atuh Beach. Many tourists also take advantage of the background of the beauty of the beach from above to be used as a photo spot.
Access to Diamond Beach
the development of tourism in nusa penida islands is growing rapidly, and some tourism sites are made access to the location, like diamond beach, stairs are made to go down to the beach, to make it easier for tourists to go to the beach, the access road down the cliffs of Diamond Beach began to open since 2018. The road was made by local residents by cutting a hill wall 25 meters high. With this stairs, it is very easy for tourists to go to the beach location directly and enjoy the beautiful view of diamond beach and swim here. Down the local stairs requires extra stamina for children and the elderly. According to local residents, before the road access to Diamond Becah was opened, residents were very difficult to get to the shore. Because it is very risky, only the surrounding people dare to go down, usually for fishing. Previously, tourists could only enjoy the scenery of Diamond Beach from the top of a cliff, now it can go down to the shoreline.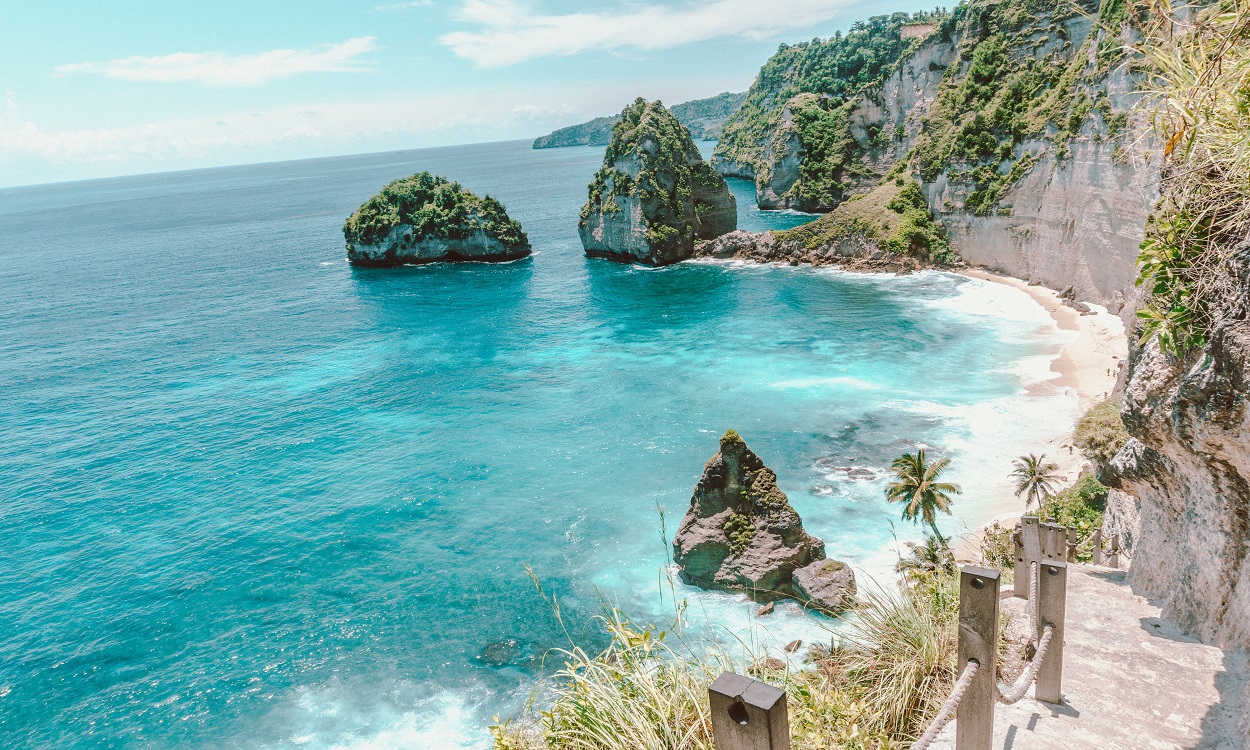 History Name Diamond Beach
As the name implies, Diamond Beach presents beautiful views of the cliffs and certainly will spoil your eyes with its panorama. There is a pointed rocky cliff like a diamond, because the shape of the diamond, then the local residents here named this place as Daimond Beach. Besides the rock shapes diamond on this beach lay white sand with clear water, many tourists come here to swim or just take photos with a background of diamond beach. If you visit here you can see a very large rock in the sea, as for this rock if you look at it from the beach it will look like a prism, similar to the shape of a diamond, because the shape of the rock is like a diamond, the locals call it Diamond beach. As the name suggests, this beach is also a diamond that offers incomparable natural beauty, stretches of white sand, cool coastal breezes, coconut trees swaying in the wind as if completing the criteria of a paradise beach.
Swing in Diamond Beach Nusa Penida
Swing activities are very famous and in demand by tourists who visit the island of Bali, and seeing this opportunity, then at diamond beach which is famous for paradise beaches, swing activities are also made, and this swing faces the diamond beach, so while swinging you can see the scenery the beach is very amazingly beautiful. And of course this swing activity is paid, if you want to swing at diamond beach, you need to pay to enjoy the sensation of an incomparable swing. This activity is perfect for those of you who want to do something different during the Nusa Penida tour. The photos produced during the swing are very good, and very suitable for those of you who are photo enthusiasts, because the results of this swing photo are very instagramable, and of course you can also save it as a memory that you have swing at Diamond Beach. Something very unforgettable, the memories of swing here will always be memorable in your heart. so if you visit diamond beach, don't forget to leave a swing trail here, as a sign that you've been swinging on the famous beach in Nusa Penida. For those of you who are afraid of heights and afraid of swings, you can take pictures in the photo spots here, such as a bird nest with a diamond beach background which is very charming.
Transportation to Diamond Beach Nusa Penida
Nusa Penida Island always keeps memorable memories for tourists who visit it and will always make people want to come back to visit, in addition to the very tempting beautiful scenery, the friendliness of the local people and access to tourism sites have been so improved, and many new tourist attractions have been opened. no less beautiful with tourist attractions that have ever existed. As you know to get to the Diamond Beact at Nusa Penida, sea transportation is needed, which is located at the port of Sanur, there are many fast boats that offer services to cross to Nusa Penida, and also in Nusa Penida there are many transportations that offer services to get around Nusa Penida, and there are also many motorbike rentals at the port in Nusa Penida, for those of you who want to Diamond Beach in Nusa Penida using a motorbike, you can use this method, armed with a google map and directions on the road, you can visit tourist objects, but remember it is not recommended For those who are new in motorbikes, because the roads in Nusa Penida are a little extreme, with lots of ups and downs.
Tour Packages to Diamond Beach
For those of you who want to visit the island of Nusa Penida, especially to Diamond Beach , we offer a Bali East Nusa Penida Tour package or also a combination of packages from the west and east in one day Bali West and East Nusa Penida Tour. With the Nusa Penida package which includes transportation from the hotel to the port and vice versa from the port to the hotel, fast boat tickets back and forth, transportation for tours in Nusa Penida and accompanied by a friendly and professional local guide, and also complete with lunch with Indonesian food. So you just need to contact us and say you want a tour to diamond beach and we will prepare everything for you, so you don't have to worry about buying everything separately, because your goal is to vacation for relaxation, not to be busy managing everything, because our goal here is to make it easier for you to visit tourist attractions in Nusa Penida.